Pictures are the finest method to keep memories alive, but I lose them for a variety of reasons. All of your personal memories and photographs may be lost forever if you run out of hard drive memory or if your hard disk fails. As a result, using backup devices is the ideal option for storing photos and videos.
Photo stick and infinitikloud are the names of two of the best cloud-based USB drives. Despite the fact that both of these gadgets work on the same concept, they differ in a few ways. The biggest distinction is in storage capacity, with PhotoStick having 256 GB and Infinitikloud having up to 1TB.
Thus, if you're undecided about which backup device to acquire, this guide will help you decide. Today, we'll go over everything you need to know about these devices and compare them side by side.
Key Takeaways:
PhotoStick offers storage up to 256 Gb, whereas Infinitikloud offers up to 1 TB.
Both of these USB backup devices are really to use and don't require any special knowledge
PhotoStick can detect duplicate files automatically and delete them.
Infinitikloud can store many different types of files and has multilingual compatibility
PhotoStick has a weekly backup option compared to monthly backup in Infinitikloud.
Photo Stick vs Infinitikloud: Comparison Chart
The comparison chart below will show you the full difference between the PhotoStick and Infinitikloud.
Product
Storage
Backup
Ease of Access
Hardware
Hardware
USB
USB 2.0, 3.0, Type-C
Duplicates Removal
Duplicates Removal
Yes
No
Weight
Software
Software
Photo Stick Software
Built-in Infiniti Kloud software that requires activation key
Photo Stick Vs Infinitikloud: In Detailed Comparison
So far, I have seen the basic differences between PhotoStick and Infinitikloud. But, now I will look into a more detailed comparison of these backup devices. Thus, your decision-making will be easier.
Storage Capacity
The first thing I will talk about is storage capacity. PhotoStick offers a few different storage capacities from 16 Gb-256 Gb. At the same time, the Infinitikloud has a storage capacity of up to 1 TB, which is massive. So, if you want more storage, then Infinitikloud is a better choice for you.
AI Technology
The PhotoStick offers a unique AI technology that can auto-detect all of your pictures and videos. It can also compare the files and delete them automatically if any duplicate is found. But, with Infinitikloud, you do not have the option to delete duplicate files automatically.
Type of backup file
It is always handy to have a device that can not just backup your photos and video but also other files. Infinitikloud does that; it can back up your photos, images, videos, music, and even documents. However, PhotoStick can only backup your photos, images, and videos.
Compatibility
One significant distinction between these two devices is the Photo Stick connectivity with a variety of iOS and Android smartphones. You can also use it to back up your multimedia content from your Android or iOS phone. InfinitiKloud, on the other hand, is only compatible with the majority of modern operating systems and PCs.
Photo Stick Reviews
PhotoStick is an excellent device, but to know whether or not this is for you, read The PhotoStick Review below. I will break down every aspect of this product in detail in this section.
Features
The first thing I will discuss PhotoStick is the features of this product.
Fast Action
One of the quickest multimedia backup devices on the market is the PhotoStick. Beyond any other gadget, it works quickly and easily. Consequently, even massive collections of photos and movies may be backed up in a short time.
Automatic File Organization
The PhotoStick is programmed to quickly identify and transfer all of your favorite moments from your PC/Laptop and even mobile with just a single click.
Furthermore, this device has automated file organization technology that maintains all of your data sorted according to file type, volume, time, as well as other parameters based on your preferences.
Weekly Data Backup
Thanks to the weekly backup system, you have no chance of losing any important images and pictures with the PhotoStick. All your data will be automatically backed up every week on this device.
Auto Delete Feature
You won't have to waste time manually removing duplicate files with the PhotoStick. It is equipped with artificial intelligence (AI), which allows it to recognize duplicate files and remove them with your consent. Furthermore, it selects the best file from among the duplicates and keeps it safe.
Specification
12000 pictures and videos storage capacity
Works with the English language
Very lightweight
Compatible with all computers and smartphones
It has a storage capacity from 16 Gb to 256 Gb
Comes with 60 days warranty
No need for software activation
Benefits
So, what are the main benefits of PhotoStick? Why should you really buy it? Read below to know more.
Can backup data very fast
Save new files easily and securely without internet or passwords
It's pretty simple to use. Easily plug it into your pc and select 'Back Up Now from the pop-up menu.
The PhotoStick finds and saves 1000 photographs in 10 min and 60,000 images and movies of typical size.
Thirty days money-back guarantee. So, you can return the device if you find any problems.
Pros & Cons
PhotoStick is undoubtedly an excellent backup device, but it also has some pros and cons.
Where to Buy It?
Every e-commerce site, such as Amazon and other online sites, sells PhotoStick. You may also get it through the company's official website. It is not, however, accessible in shops. Because it has a variety of storage choices, the price varies depending on the size you choose.
Infinitikloud Reviews
I have already seen a detailed review of the PhotoStick; now, it is time for us to check the detailed review of the Infinitikloud.
Features
The main difference between the Infinitikloud and the PhotoStick is the features.
Very large Storage
The Infinitikloud has a massive storage option of up to 1 Tb, which is a great option for users who need more storage. Moreover, it also comes with a unique SD card slot. Hence when your memory is filled up, you can add additional SD cards and increase the storage.
Plug and Play design
There will be no need to download any external applications or utilize any cords to connect this device to your pc or laptop. This USB device is a straightforward plug-and-play gadget that may be quickly attached to your desktop.
Multi-type file storage
One of the most valuable features of the Infinitikloud is that it can store pictures and videos, music, and essential documents. Hence, you do not need to carry different backup devices; one device is enough to back up all of your files.
Compact Design
Even though it has a very large storage capacity, the size is really compact and has a weight of only 79 grams. This means you can easily carry it around in your pocket wherever you go. It weighs less than most USB storage devices.
Specification
The gadget contains a 1TB hard drive that can hold 250,000 photographs, 250 movies, and more than 500+ hours of Video files.
Backup will start with just one click of a button.
Comes with a 0 USB speed
Can back all types of files
No need for any internet
Money-Back guarantee
Compact design
Benefits
Is Infinitikloud the best choice for you? Look at the benefits which will make your decision-making much easier.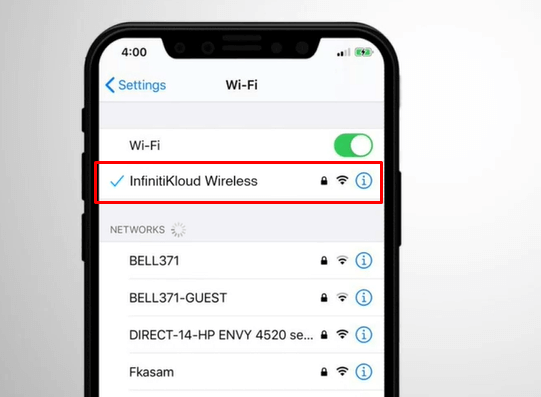 Can detect your devices automatically
It can detect devices automatically
With just one click, you may see all of your stored files.
Transferring files and creating backups takes less time.
It is accessible to people all around the world because of its bilingual compatibility.
Pros & Cons
Now, I will look into all the pros and cons of Infinitikloud.
Where to Buy it?
InfinitiKloud may be found on a variety of e-commerce platforms and popular websites. It's available from a variety of providers, with multiple storage capacities and prices to match. You may also purchase it through the official website, which has a 30-day money-back guarantee.
Photo Stick vs Infinitikloud: Similarities
Infinitikloud and PhotoStick do have a lot of similarities between them. You can control and store your multimedia content with just one click on these devices. Neither gadget relies on third-party software to function.
The two devices come with software that automatically examines every directory and item on your desktop and saves the items that need to be backed up. They can also sustain years of usage without breaking down, and they can safeguard information from viruses that might harm data.
Another characteristic shared by Infinitikloud and PhotoStick is the protection of viruses from damaging the media data on the devices. Both of these devices, in addition, are compatible with all contemporary PCs and most updated operating systems also.
Finally, compared to other existing, higher costly cloud-based backup solutions, both options are equally affordable. These devices are available in any configuration and just require a single payment.
Photo Stick vs Infinitikloud: Our Recommendation
So, which one should you choose between the PhotoStick and Infinitikloud? Both of these devices are excellent multimedia backup devices. The characteristics and specs of both are similar. However, there can only be one obvious winner.
For us, the winner will be PhotoStick, and the main reason for this is its AI technology. This unique technology will sort all your files in order and even delete if there are any duplicate files. AI technology is the only feature that Infinitikloud lacks.
However, if you want a bigger storage device for your multimedia content and you also want to backup music and documents, then you can select Infinitikloud.
Conclusion
Photo Sick Vs. Infinitikloud, which is the better choice? When it comes to finding multimedia backup devices, these two products always stand out. However, the ultimate decision lies upon you which device works best for you.
Hence, today in this guide, I have discussed everything you need to know regarding these two backup gadgets. Our full review is based on our own experiences of using these gadgets. So, read this guide properly before making the final decision. You can expect an excellent overall performance regardless of which product you choose.