When your favorite showpiece or anything you like gets broken, what do you do? Indeed, you're not going to throw it away, as there's an emotional attachment with that particular thing.
In such cases, we all become DIY workers, & glue is the most crucial element that helps us accomplish our fixing tasks. But the problem is, regular glues aren't so solid & durable, and they can't be used with all types of materials.
So if you're looking for a glue that can be used with all types of material & last for a longer time, then I've brought a tremendous liquid plastic welder adhesive for you known as Bondic. Now here in this Bondic review, I'm going to show you how this welder will help you with your DIY projects.
My Quick Overview of Bondic
Bondic is a liquid plastic welder that can use with all materials. If you have Bondic in your hand, you won't require any other glue to fix, join, or attach any material. I used Bondic with many materials such as wood, plastic, metal, and many more and got an incredible output.
Where traditional glue fails, Bondic does an excellent job. It gives you enough time to set the objects in the correct position as it doesn't harden instantly like other glue.
For Bondic, I'll say only one thing that it worked, exceeding my expectations. Overall, using Bondic is very easy; it's highly customizable, and you can remove the glue as well if you want.
Bondic Review – My Honest Opinion
Before using Bondic, I was confused about its effectiveness because of its unique characteristics. But after I got it in my hand and used it on some of my DIY projects, I was so surprised. The bond and joint it creates between objects are outstanding.
As a satisfied user of this liquid plastic welder, I think it's my responsibility to share my experience with you. Now below in this Bondic review, I'll share my honest opinion about this liquid plastic welder based on my uses experience.
What is Bondic?
Bondic is an advanced quality ultraviolet liquid plastic welding adhesive. It's the world's first liquid plastic welder invented by a German dentist, known as Dr. Thomas.  Since its journey started, it has become the best alternative to other traditional glues.
Where regular adhesives are specified for a specific category, like, wood glue for wood, plastic glue for plastic, etc., Bondic has no limitations.
The liquid plastic glue can be used in almost every material such as plastic, wood, metal, fabric, glass, ceramic, plywood, etc. Besides, the non-sticky and nontoxic Bondic is very easy and harmless to use.
The most impressive thing about Bondic is, it solidifies within 4 seconds once exposed to UV light.
Features of Bondic
Bondic isn't just famous for its unique nature of gluing; its numerous features make it popular among users. Under this Bondic review, I will show you some exclusive features of the Bondic that I've enjoyed these days.
Works With All Materials:
When you search for the glue, you'll find many options. All of them are specialized for some specific category.
But Bondic is different here; it works with almost every material and object. Using Bondic liquid plastic glue, you can fix wood, metal, plastic, fabric, glass, ceramic, etc.
Fast Drying:
Bondic is different from other glue available in the market. It won't take much time to solidify and cure. You won't have to wait for an extended period to fix or attach any object with it.
After applying the glue, you need to expose it with UV light to solidify, and within 5 seconds, the bond becomes hardened.
Well Controlled:
Unlike other regular glue, Bondic won't get hardened once you apply it. This glue will only get hardened when it's exposed to UV light. So before exposing the Bondic to UV light, you get enough time to customize or set the object.
Once you think everything is in the correct position, turn on the UV light and expose the area with the UV light.
Sandable and Paintable:
If you want to polish or sand the Bondic after curing, you can do so. It allows you to get your desired appearance, which you can't expect from other regular glue. If you want to paint over it, you can do so to give it an esthetic look after sanding the glue.
Waterproof:
One of the best things about Bondic is its water-resistant ability. Like other glue, it doesn't break down from moisture and water. As a result, you can use this liquid plastic glue for your outdoor projects without any worries. I had used it to fix my water pipe, and it did an excellent job.
Durable And Long-Lasting Bond:
Compared to other regular glue, Bondic is the most durable and robust adhesive that you'll find in the market. Anything you fix with it will last for a month, year, or more.
Non-Toxic:
Bondic is made of non-toxic material, so it's completely harmless to use anywhere you want. Even you can use it for fixing a food container or anything that has direct contact with food because of its harmless characteristics.
Transparent:
Transparency is one of the main characteristics of Bondic. When you apply it to any object, it takes the color of that particular object. So when the matter is about aesthetics, Bondic is a wonderful solution.
Easy To Use:
Another greatest advantage of Bondic is it's very simple and easy to use. It doesn't require a lot of practice to use the glue. Just apply the liquid glue on any objects or material you want and expose it with UV light to solidify the attachment.
That's all you have to do to get a bond that'll last for a long period of time.
Pros and Cons of Bondic
Are you going to change your existing glue with Bondic? If so, read the pros and cons of Bondic liquid plastic glue first. It'll help you to understand whether you should go for it or not!
How to Use Bondic?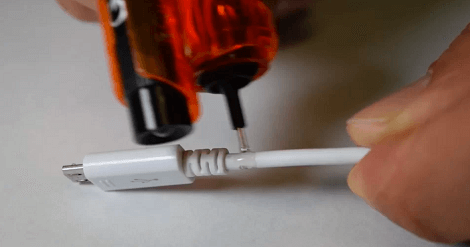 If you're new to Bondic liquid plastic glue, you may want to know how to use it properly. To help you with that, right below this section, I will show you some easy steps that I've followed to use this glue.
Step 1:
First, pick the material or object that you want to bond.
Now clean the area of bonding with a clean cloth or paper towel.
After cleaning, sand or make the area rough where you will apply the glue. Through this, you'll have a solid and permanent attachment to the object.
Besides, you can attach the objects without making the area rough for a temporary fix.
Step 2: Now, apply a sufficient amount of Bondic glue in the spot where you want to make the bonding.
Step 3:
Check the objects or materials where you applied the Bondic adhesive, whether they're in the correct position or not.
If you need to reposition them, take your time to correct them because Bondic won't get hardened until exposed to UV light.
Once you think everything is perfect, expose the area with UV light, and in less than 5 seconds, the glue will be solidified.
How To Use Bondic As A Filler?
As a filler material, Bondic does an excellent job. I used Bondic for my several DIY projects, and it works outstanding. You have to do nothing special to use it as a filler object.
Just apply the liquid glue over the surface or material you want to fill. Use a knife to remove the excess bondic from the surface. It'll help you make the filler smooth, and it won't come out from the gap quickly.
How Much Use Will I Get From a Single Container?
The standard pack of Bondic comes with a small tube of resin, and a mini LED light. It gives you 10-15 times repairs support for minor fixing and DIY projects. If you're working on bigger projects or need to fixing frequently, you should keep multiple bondic kits.
And the good thing is you'll get an exclusive discount on large quantity purchases. For example, if you purchase three Bondic kits, you'll get two more extra for entirely free. Even if you buy two Bondic together, you'll get one bondic kit completely free.
What Comes in the Starter Kit?
If you're purchasing the Bondic for the first time, then you should know that there are three different kits available in the market. Among them, the starter kit is the most popular and the basic one, including the following things.
Bondic Bottle:
With a Bondic starter kit, you'll get a Bondic bottle that holds the adhesive inside it. It contains a sufficient amount of liquid plastic glue for multiple applications.
Application Tip:
The starter kit contains an applicator tip which is almost similar to the tip of a ballpoint. It helps the Bondic user apply a thin layer of liquid glue over the surface without wasting it.
UV Light Tool:
It's the most crucial thing in the whole package because the Bondic is good for nothing without it. Bondic glue only solidifies when it exposes to UV light.
Carrying Case::
The basic starter kit comes with a bright silver color metal carrying case for your convenience. It has enough room to hold all the supplies inside it. The box also has sufficient space to carry your UV tool so that you never lose any of your items.
Who's This for?
Actually, there are very few limits on how or who can use Bondic, as it can be used on almost every material by anyone. Although everyone can use Bondic, auto enthusiasts, arts and crafts workers, and DIY hobbyists will most benefit from it.
It's an excellent tool for them, especially craft enthusiasts and mechanics. For example, a car mechanic can easily do the repairing task of his car with Bondic, as it works fantastic with plastic and other materials.
Similarly, if you do DIY projects at your home, Bondic will come in handy. In simple words, for anyone who needs a powerful, durable, and versatile adhesive, Bondic is a blessing.
Why Is Bondic Better Than Super Glue?
Before answering this question, I would like to tell you one thing that Bondic isn't a regular glue that we're familiar with. But it can be used for the same purpose as glue; even where glue fails, it does a magnificent job.
Now let me tell you the facts that make Bondic UV liquid plastic welder better than superglue.
The first thing is, Bondic has no limitations like other glue. You can use it for almost everything. For example, superglue doesn't work with metal, glass, plastic, wet items, etc., but Bondic is superior there; you can mend anything with it! Using the right amount of Bondic UV liquid plastic welder, you can fix any broken items and get a reliable output.
Moreover, superglue is very messy & sticky. If it pours into any unwanted area, it becomes hard to clean. On the other hand, Bondic can easily be removed from any unwanted area with a simple wet cloth.
Superglue dries too fast. If you unconsciously leave it open for an extended period, it'll get hard inside the package.  But with Bondic, you don't have to worry about that, as it only hardens when exposed to UV light.
Why Is It Different From Other Solutions?
Bondic isn't a regular glue. It's an advanced-quality liquid plastic welder with all the benefits of glue and more versatility and robust strength. Its working process is also different from other solutions.
Bondic doesn't solidify after applied like other traditional glue; it only gets hardened when exposed to UV light. As a result, you get enough time to customize the objects you want to bond with, which you won't get with other solutions.
This patented Lazer bond UV glue pen has several advantages over other alternatives. Below I'll mention some of them.
Works With All Material and Surface:
Bondic is a UV light glue that you can use with all types of material and surfaces, such as metal, glass, plastic, fabric, ceramic, wiring, etc. It has no limitations.
On the other hand, you can't use regular glue with all materials and surfaces. They are mainly designed for individual materials or surfaces.
50x Stronger Than Glue:
The bond created by Bondic will last years after years. Once it gets hardened, it creates a water and airtight seal that can support 350 lbs weight.
Bond, Fill, Shape:
Bondic is a versatile plastic glue used for sticking things together and used for sealing and filling holes and gaps. You can also paint or sand it to change the shape or color. In addition, bondic is used for creating 3d shapes and new parts.
Doesn't Stick With Fingers:
With the Bondic liquid plastic welder pen, you can apply the liquid glue precisely wherever it needs. Then again, if unconsciously it falls over your body, don't worry because it won't get hardened if you don't expose it to UV light. You can easily wipe out the liquid glue with a damp cloth.
Doesn't Get Harden Instantly Or Dry Out:
As Bondic only gets hardened when exposed to UV light, you don't have to worry about it like other glue. Even if you keep the liquid glue bottle open or uncapped, it stays in the same condition while other glue will get completely hardened.
Waterproof And Heat-Resistant:
One of the most significant benefits of bondic is its water and heat-resistant ability. Because of this, the bond can withstand extreme hot and cold temperatures. And, the glue has waterproof properties as well.
Lightweight And Portable:
Bondic is very small, compact, and lightweight. You can easily carry it everywhere and use it wherever you need it. It's a perfect kit for bringing in a car, boat, travel bag, and toolbox.
Is Bondic a scam?
It's hard to predict a product if you haven't used it yet. So, it's a common question that you may want to know if the Bondic is a genuine product or scam!
When I first heard about this liquid plastic welder, I decided to get it and check by myself whether it worked or not! After purchasing the Bondic, I had used it with several items of different materials, and it works fantastic.
Before purchasing, I had studied some user reviews of this liquid plastic welder to get the real-life experience from its users.
I found almost every user is delighted with it, which motivates me to get one without any delay.
So, if you're looking for a powerful and versatile adhesive for your DIY projects, I'll highly recommend you to use Bondic. To give you more idea about the Bondic, below this section, I will include some user's feedback.
Where Can I Buy It?
When you look for the Bondic liquid plastic welder, you'll find plenty of options. But do you think all of those sources are reliable? Surely, not.
So, if you decide to get the Bondic, I'll recommend you to get it from its official site.
I've ordered mine from the official site and received the product right in time. Moreover, when you get Bondic from its official site, you'll get some discounts and offers.
Currently, if you purchase two Bondic from its official site, you'll get one Bondic absolutely free, and if you are buying three, you'll get two more extra.
I include its official link right below this section for your convenience, just click here and make your order.
Frequently Asked Question
While reading this Bondic review, some common questions may arise in your unconscious mind. Here in this FAQ section, I will add the answers to those questions that people frequently ask about it.
Is Bondic Toxic?
No. Bondic is made of a completely non-toxic material that makes it one of the safest glue to use.
Does Bondic Work on Wood?
Yes, it perfectly works on wood. Not only that, Bondic works on almost every material that you named.
Is Bondic Dishwasher Friendly?
Yes, Bondic is safe to use with a dishwasher as the material of the Bondic is 100% water-resistant. But one thing you need to make sure of, the bond is strong enough to withstand the pressure of the dishwasher.
Can Bondic Be Used Against or Underwater?
Bondic isn't just glue; it's a liquid plastic welder that allows you to use underwater and against the water. Just make sure the UV light is turned on the other side of the water to make the bonding.
Will Bondic Work Without the UV Light?
No. Without UV light, Bondic is useless. Because it only solidifies when exposed to Ultraviolet light.
Who Is the Supplier of Bondic?
A Canadian company "Freight Boy" is the manufacturer and supplier of this product. It has a branch in the United States too. They jointly produce, promote, and supply the Bondic all over the United States and Canada, and they also deliver the product internationally too!
Support Team Contacts
For any kind of information, questions and solution you might want to contact the bondic support team. You can directly contact the support team through support@BONDICNA.COM.
Company Location in the United States
BONDIC® c/o Freight Boy
4450 Witmer Industrial Est Ste 4
Niagara Falls NY 14305-1391
United States
Company Location in Canada
BONDIC® Canada
235 Industrial Parkway S., Unit 18
Aurora, ON L4G 3V5
Final Thought
Keeping dozens of bottles of glue surrounding you isn't any more necessary to complete your DIY projects or arts and crafts works. In my Bondic review, I already showed you how this versatile adhesive works. And how it helps you to complete your DIY projects correctly.
No matter what types of material you're working on, Bondic will work with almost everything. It's completely different from regular glue and very easy to use.
So, if you're looking for a robust, reliable, and durable adhesive, then I'll suggest you go for Bondic.