Gardening in the city can be challenging–balconies, rooftops, or small apartment patios don't always lend themselves to traditional gardening. So, it always bothered me how I could benefit from fresh, homegrown produce without leaving my concrete neighborhood. That's why I was so intrigued when I heard about SeedSheets.
This revolutionary gardening kit promises to provide urbanites with an easy route to enjoy growing their own vegetables. With pre-seeded sheets of organic soil and a curated selection of plant-based seeds specifically suited for small spaces, the SeedSheets kit is made for urbanites looking for an easy and efficient way to start their own garden.
Let's dive deeper into my SeedSheets review, exploring what makes this kit appealing to aspiring gardening enthusiasts in the city.
SeedSheets Review: A Brief Overview
The SeedSheets kit comes with everything you need to get started right away. Each sheet is composed of a thin, biodegradable material that contains organic soil and seeds.
When watered, the sheet expands with the water, activating the seed's germination. You don't need to buy soil, worry about the pH balance of your soil, or over-watering–it's all taken care of. Furthermore, each sheet is curated to provide different benefits and results depending on the type of seed.
For example, the herb sheets contain various herbs, such as basil, cilantro, and thyme. Likewise, the arugula sheet contains distinct varieties of this colorful lettuce tailored to fit in small spaces.
The sheets are designed to be placed in various containers, such as pots, planters, or window boxes. Once the seeds have finished germinating, you can easily transfer them to your outdoor garden or container of choice.
What Is Seedsheets?
As mentioned above, SeedSheets is a revolutionary gardening kit for urbanites looking to start their own garden. You can pick from herbs or salad garden sheets, depending on your preferences.
In appearance, the Seed Sheets kit looks like a piece of a circular canvas. Each sheet contains non-GMO seeds encapsulated in a dissolvable pouch that blocks weed growth. The sheets are designed to fit in various containers, such as pots or window boxes.
The pre-seeded water-activated seeds are ready to sprout within a few days right out of the sheet. You just need to add water and sunlight, and you're good to go. The seeds will germinate within days, allowing you to enjoy fresh produce in no time.
Main Features of Seedsheets
The thin, biodegradable material of the SeedSheets kit boasts several impressive features that make it perfect for urban gardening. Here are some highlights that I found most noteworthy.
Pre-Seeded Sheets
Each sheet is pre-seeded with a variety of organic, plant-based seeds. This pre-seeded feature eliminates the hassle of buying soil and seeds separately.
Biodegradable Material
The SeedSheets sheet has dissolvable seed pods made of biodegradable material that expands when added water. This allows you to control how much soil and seed each plant gets. Hence, overwatering and soil pH levels are handled automatically, and so is weed growth.
Multiple Options
The SeedSheets kit offers a variety of options for you to choose from. There are herb garden sheets, salad garden sheets, root veggie sheets, and more. This means that you can find something to suit your individual needs.
Organic Soil
The sheets are made from organic material free from fertilizers, pesticides, or herbicides. This means that your product will be safe and healthy. Organic soil also helps reduce waste and protect the environment, making your job easier as well.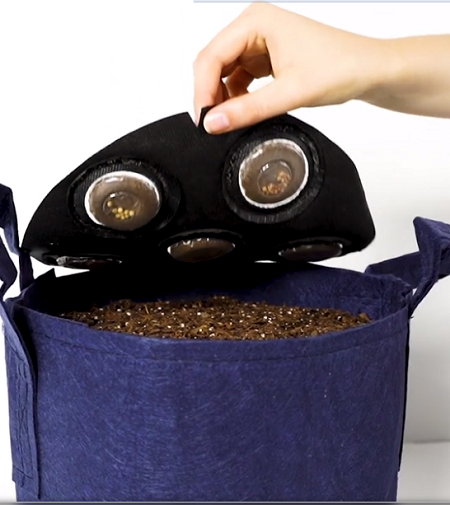 Water-Activated Seeds
When the sheets are watered, the water activates the germination of the seeds. This makes the kit incredibly easy to use, regardless of your gardening experience.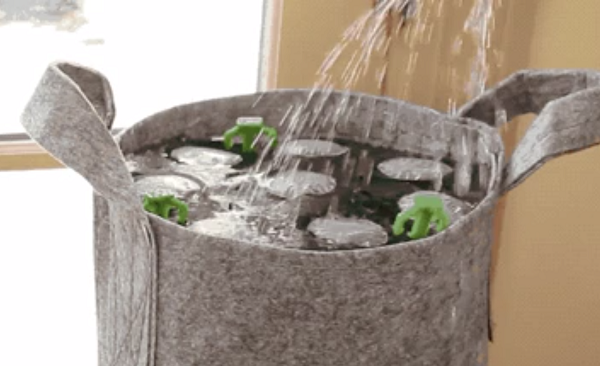 Ventilation System
You're bound to fall in love with its clever ventilation system if you frequently deal with the issues of over-watering or under-watering your plants. The sheets are designed to maintain an optimal humidity level and prevent overwatering.
Fabric Containers
The kit includes fabric containers perfect for your window boxes, planters, and other containers. These containers are breathable and allow for optimal drainage.
Smartphone App
SeedSheets also offers a mobile app to track your progress and get expert tips and advice. It also receives notifications when it's time to water your plants, which is handy for busy people who might forget.
SeedSheets Review: What's in the Package?
SeedSheets has several packages to choose from, depending on your needs. I got myself the single Herb-Garden pack, which included:
1 Herb Garden Seedsheet of 12-inches in diameter (backyard size sheets are also available) with seed pods of Cilantro, Basil, Dill, Parsley, Onion Greens, and Sorrel seeds
1 BPA-free gardening container with anti-weed fabric
1 Saucer
3 biodegradable stakes
1 bag of nutrient-rich sterilized soil
Free iOS/Android App
Instruction booklet with recipes
With the 3-Gardens pack, you get two Herb-Garden and one Salad-Garden sheet. The latter includes the likes of Arugula, Pea Shoots, Spinach, Golden Frills, Beet Greens, Green Onions, Mustard Greens, Tatsoi, Purple Basil, Red Russian Kale, several cocktails, and some extra seeds.
You can learn more about the various packs from SeedSheets' official website.
How to Use the SeedSheets?
In my experience, using the SeedSheets kit was a breeze. Although the packs come with precise instructions, here is a step-by-step guide to help you get started quickly.
Plant Seedsheet
Orient the Seedsheet with its seed side toward the soil in the soil container. With your hands, flatten the sheet to the maximum extent possible.
Insert the Stakes
With each package, you will receive three green stakes. These should be placed through the sheet's "X" slits.
Dissolve the Pouches
A 10-second soak is all that is needed for each pouch. Allow 30 seconds for each to dissolve after watering. Dissolve the pouches completely by repeating this process.
Place in Sunlight
You can plant the seeds anywhere in ample sunlight, such as on a windowsill or patio. If your apartment lacks natural lights, artificial lights like full-spectrum LED lights will also suffice.
Seedsheets come with instructions explaining the harvesting time for the plants. Or, you can follow the app for further guidelines.
The Benefits of SeedSheets
Aside from being easy to use, SeedSheets offer a host of benefits compared to traditional gardening. Here are some of the perks I experienced:
Low Maintenance
Since I am not the most consistent gardener, I'm always forgetful about watering my plants and sometimes don't check on them for weeks. With SeedSheets, I don't have to worry about such mishaps.
The fabric container ensures proper aeration and drainage, while the ventilation system is designed to maintain optimal humidity levels. That way, I can just sit back and relax while my plants do their thing.
Cost-Effective
Spending hundreds of dollars on gardening equipment can be a bit discouraging. SeedSheets' kits are remarkably affordable, allowing you to enjoy the benefits of gardening without breaking the bank.
Since you're only growing what you want with little maintenance, you don't need to worry about wasting money on seeds or supplies.
Space and Time Friendly
The SeedSheets kit is perfect for those with limited space. You don't need to invest in separate containers or raised beds; the fabric container fits inside a window box or planter, making it ideal for those living in apartments.
And you can take a worry-free approach to gardening by forgetting about tilling, weeding, and fertilizing. The SeedSheets sheet does all that work for you. Besides, the app reminds you when to water your plants.
Kids Friendly
Keeping kids away from smartphones and TVs can be quite challenging. With SeedSheets, you can encourage them to learn about gardening and practice healthy eating habits.
Since SeedSheet makes it easy to grow herbs and vegetables at home, your kids can enjoy watching their plants grow.
Fresh Homegrown Foods
There's nothing better than homegrown food for health-conscious people, right? With SeedSheets, you can enjoy fresh fruits, vegetables, and delicious spices year-round. Whether it's basil pesto or homemade salad, you can take advantage of homegrown food with minimal effort.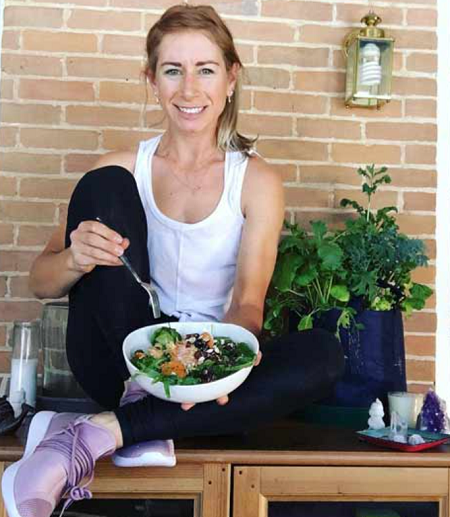 Organic and Sustainable
Organic gardening is quickly becoming popular, but finding the right materials for it takes work. SeedSheets' kits are made with sustainable and eco-friendly materials, making them a great choice for organic gardening.
Affordable
At just around $35 per kit, SeedSheets are surprisingly affordable. You can get everything you need in a single box at an unbeatable price without spending on heavy equipment.
Drawbacks of SeedSheets
The only drawback I found was the germination rates; only some seeds grew expectedly well. The cilantro seeds were too immature to germinate, and the basil seeds took slightly longer to sprout than expected.
However, this may have been due to my location's weather and the garden condition. As I live in a cold climate, the plant's growth could be affected by the temperature.
Who Can Use Seedsheets?
Regardless of their green thumb, any gardener can benefit from SeedSheets, with zero or minimum experience level. Whether you're a novice gardener or an expert looking to expand your gardening arsenal, SeedSheets will come in handy.
Kids can participate in the fun, too, thanks to its convenient setup and easy-to-follow instructions.
The kits are ideal for those with limited space, such as city dwellers living in apartments, students living in dorms, and people looking to grow plants on their balconies or patios. The fabric container allows you to make the most of vertical space to get the most out of your little urban garden.
Anyone who loves fresh food but doesn't want to invest in separate gardening equipment can also benefit from SeedSheets. The kits are designed to make gardening easier and less time-consuming so that you can enjoy the fruits of your labor.
Is SeedSheets A Scam?
It's easy to question SeedSheets' legitimacy, given that it's quite new. The unique concept and way the product works only makes it sound more like a scam than anything else. But I can assure you that it is not a scam.
From my experience, I can say that SeedSheets is a worthwhile product. It makes growing herbs and vegetables easy and enjoyable without breaking the bank. Plus, I can use SeedSheets to help me have a successful garden in my low-space home under challenging conditions.
I won't deny that it needs improvement on some seeds, but overall, it's a worthwhile purchase. Furthermore, SeedSheets offers a 30-day money-back guarantee if you're unsatisfied with your purchase.
SeedSheets Review: What Do Customers Have To Say?
"Well, that was easy! I was a bit apprehensive initially, but the SeedSheets kit was surprisingly easy to set up and use. My plants have been doing great, and I can already taste fresh basil pesto and homemade salad."
-Noel Reiner, Tennessee
"I just love the SeedSheets kits and my thriving herb garden! Although I am a seasoned gardener, it has made gardening much easier. I've been growing herbs and vegetables on my balcony with this kit, and it's been incredibly rewarding. I Highly recommend it to anyone looking to get into gardening!"
-Eva Arnold, Arizona
"The only thing I'd complain about is the limited seed options. I'd like to see more types of plants in the kits (I really want one for squash). Otherwise, it's an amazing product, and any veggie enthusiast would benefit from it."
-Adam Chang, California
"Thank you, SeedSheet team, for inspiring my kids to get involved in gardening. Seeing SeedSheet save their science project, they're now excited to grow their food with these kits. Highly recommend it!"
-David Jones, Florida
SeedSheets Cost and Moneyback Guarantee
SeedSheet comes in four different packages, each with its respective price tag.
A single pack of SeedSheet costs $34.99.
You can buy two and get one free at $23.33
Or, you can buy three and get two for $20.99
There's even a package of buy four get four at $17.50
Or maybe you'll want to contact SeedSheet for a custom container garden.
On top of that, all packages are backed by a 30-day money-back guarantee offer and free nationwide shipping. You can check more details about each package from SeedSheet's offer page.
Where Can I Purchase SeedSheet?
SeedSheet is available on their official website, Amazon, Target, and several other retail stores. I recommend purchasing directly from SeedSheet's official website to ensure you get the best deal. Besides, your 30-day money-back guarantee will only be honored if you purchase from their website.
Frequently Asked Questions
Below, I have compiled a list of frequently asked questions about SeedSheet and their respective answers.
Are Seedsheets still in business?
Yes. SeedSheets is still in business and actively creating new products. It was rumored to be shutting down for a while due to late product deliveries to several customers, who thought it was a scam. However, the company is still going strong and has improved its delivery system.
Who is the provider of the product?
SeedSheet is owned and operated by Cam MacKugler, CEO and developer of the product. MacKugler was inspired to create SeedSheet when he saw a need for an easier, more sustainable way to garden. His company operates from Middlebury, Vermont, USA.
Is it easy to use at home?
Yes. These DIY gardening kits are designed to be easy to use at home and require minimal effort. The kit includes everything you need to grow your herb or vegetable garden in a small space. All you have to do is prepare your soil, place the sheet, and water it daily.
What problems does SeedSheets solve?
SeedSheets solves the problems of unsustainable farming practices and lack of access to fresh, nutritious food. The product removes the need for harmful pesticides, provides an easy way to grow food regardless of location, and reduces transportation costs.
In addition, this all-in-one gardening kit introduces a more eco-friendly way of gardening that helps mitigate the environmental impacts of traditional farming.
Are all of the seeds organic and non-GMO?
Vermont Edible Communities' studies have found that all of the seeds used in SeedSheets are organic and non-GMO, ensuring they're safe to consume and free of harmful chemicals. This also helps maintain the integrity of the plants, as non-GMO seeds are more resistant to diseases and pests.
Is it better to plant SeedSheets in a container or in the ground?
It depends on your preference and the type of plants you're growing. If you prefer to have a more contained environment, then planting SeedSheets in a container would be best.
On the other hand, planting them in the ground would be preferable if you'd like to grow larger or multiple plants at once. It's ultimately up to you and what your goals are for gardening.
How big are the Seedsheets?
The basic SeedSheet single pack is a circular sheet 12 inches in diameter. The other packages are bigger and come with multiple sheets. When checking online, I saw some four feet by eight feet backyard-size sheets in the SeedSheet packages, which might suit you if you have ample space.
Support Team
Lastly, I'd like to mention the excellent customer service SeedSheets provides. Although I came across a few reports of late deliveries, I noticed that the company's support team works hard to resolve customer issues promptly.
I had some queries about harvesting and reached out to them via email (info@seedsheets.com). Surprisingly, my attempt at customer service was an instant success. The team responded within minutes with clear instructions on properly harvesting. You can also contact them via social media or phone (802-382-8882).
Verdict: SeedSheets Review
And that's a wrap for my SeedSheet review. Having tried SeedSheets myself, I can undoubtedly vouch for its quality and effectiveness. It's an excellent gardening kit that takes out the guesswork of growing your own organic herb garden and provides you with a sustainable, affordable way.
If you're looking for an easy, cost-effective way to grow fresh, healthy food from home, I highly recommend SeedSheets. In particular, I'd say the basic pack should give you the headstart needed to start your own urban organic garden adventure.
All you need is a bit of soil, some water, and the enthusiasm to grow your own food. So why not give SeedSheets a try?