Soapy bubbles have always been one of my favorite childhood memories. And now, as a mother of two, I love my kids' bubble guns just as much! So, when I stumbled upon the Max Bubble Gun, I knew it had to be part of our family's arsenal.
The Max Bubble Gun is a cute toy guaranteed to be the hit of any party. This top-of-the-line bubble blaster gun continuously shoots a cascade of bubbles, bringing life and light to every fun party you can think of. And it uses none other than the fan-favorite bubble solution, adding to its appeal.
Let's dig into my Max Bubble Gun review and explore why this bubble blaster is a must-have, how it works, and how it can elevate any party or gathering.
What is the Max Bubble Gun: A Brief Overview
An automatic bubble gun, the Max Bubble Gun continuously shoots bubbles. It creates bubbles like you always did with soapy water, only you won't have to keep dipping your hands in the solution. And that applies to when you want to make not one, ten, or hundred, but thousands of bubbles at once!
From the look of it, the Max Bubble Gun is just an ordinary toy. But when you look closer, you'll find that it has more to offer than meets the eye. The jumbo barrel of the gun has 69 holes on the font to produce up to 6,000 bubbles per minute. Its back encloses a powerful propeller fan, which continuously feeds the blaster for a non-stop performance.
In addition, this gun is made of sturdy ABS plastic and is designed ergonomically for easy handling for both kids and adults. And its fairly lightweight construction ensures that even the youngest of children can wield it without difficulty.
How Does The Max Bubble Gun Work?
Max Bubble Gun works just like any other bubble gun – you dip the barrel in the bubble solution, press the trigger to activate it, and it will shoot out an endless stream of bubbles, thanks to its high-output propeller fan.
The gun also has adjustable speeds, so you can choose how fast or slow the bubbles come out. However, this gun's continuous shooting capability makes it stand apart from the competition. As I mentioned earlier, up to 6,000 bubbles can be produced per minute with this gun, which is simply incredible.
It uses a rechargeable battery and continuously operates on a single charge for up to two hours. You also get a plate with a bubble solution to get you started. So, no more dealing with sticky, dripping bottles of bubble solution – the Max Bubble Gun does all the hard work for you.
What Is Included in the Box?
In every Max Bubble Gun package, you will find:
A bubble gun blaster
A bubble tray for the bubble solution
A cleaning brush
A 3.7-volt Rechargeable Battery and
A USB battery charger.
Main Features Of Max Bubble Gun
The funky look and lightweight build barely hint at the extent of this bubble blaster's features. Here are some of the most noteworthy features that make it a must-have toy for any celebration.
Funky Look
The Max Bubble Gun is designed with a blocky, futuristic look that grabs attention straight away. It comes in various bright colors, making it stand out in any setting. I got my kids the blue-yellow and pink-white variants, which included decorative patterns to captivate their attention.
Lightweight Construction
The gun is constructed using quality ABS plastic materials, making it incredibly lightweight so that adults and kids alike can easily handle it. And despite being lightweight, it is also quite sturdy. My kids have been running around, waving the gun, and still, it has held up well.
High-Power Propeller Fan
This is the feature that sets this bubble blaster apart from all the others – its powerful propeller fan. As I have already mentioned, it can produce up to 6,000 bubbles per minute and continuously shoot them out without interruption. However, it also allows you to set the speed so that you can adjust the rate of bubbles according to your need.
Colorful Lightings
When the Max Bubble Gun is turned on, it produces bright colors that dance across its body. This feature is great for parties and events where it can add a vibrant atmosphere. The colored bubbles also reflect the lights, making them even more eye-catching.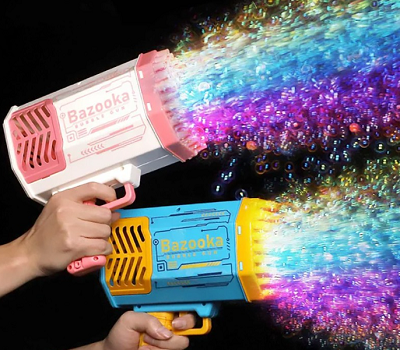 Rechargeable Battery
The gun comes with an included battery that offers up to 3 hours of continuous use. And since this 3.7-volt battery is rechargeable, you don't need to worry about buying and replacing batteries every now and then. Just plug in the USB cable, and you're good to go.
What I Liked about Max Bubble Gun?
By now, you've already guessed how much I loved Max Bubble Gun's continuous shooting power and the adjustable speed feature. It's a great deal of fun to play with – very attractive with its sleek design and colorful lights. However, there were a few other reasons I loved it more.
Superfast Bubble Blast
The Max Bubble Gun is lightning-fast, and I was pleasantly surprised by the speed at which it shoots out thousands of bubbles. It blasts them continuously, and you can immediately see the area filled with bubbles in a matter of minutes. I've never seen anything faster before.
Perfect for Use During the Day and Night
The Max Bubble Gun is perfect for both day and night parties. The colorful lights become even brighter as the sun sets, making it an ideal toy for night events. If your kids are disappointed because of the dark sky, a bubble blast from the Max Bubble Gun will certainly excite them.
Easy to Use and Refill
I found the Max Bubble Gun very easy to use. It's super straightforward – just fill the plate with bubble liquid, turn it on, dip the gun in the solution, and start blasting. The refillable plate also proved very useful – I could easily fill it up without fuss or mess.
Lights up Any Event
The Max Bubble Gun produces a steady stream of bubbles that reflect off the colorful lights, making any atmosphere even more vibrant. Kids can enjoy it without worrying about making a mess.
Whether it's a birthday party, outdoor party, a barbecue, fancy photoshoots, or any other event – this bubble machine will surely be a hit.
Safe for Kids
The Max Bubble Gun is made using BPA-free and phthalate-free materials, making it safe for kids of all ages. The non-toxic ABS plastic build also ensures that kids can play with it without any health risks.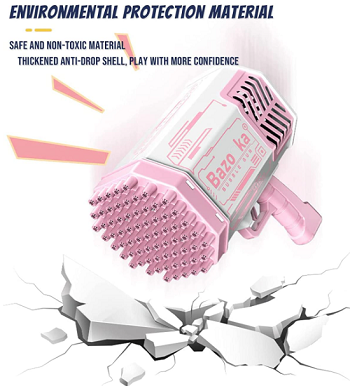 Leakproof and Mess-Free
Among Max Bubble Gun's best features are its leak proof design and mess-free operation. The refillable plate keeps the bubble solution in place and is easy to clean – just wipe away the spilled solution with a damp cloth. The package also contains a brush that you can use to clean the fan and other parts gently.
Lightweight and Portable
The Max Bubble Gun is also lightweight and portable. I could easily carry it around in my backpack, and my kids enjoyed their moments at the beach last summer with the bubble blaster. I even used it during a family reunion, and everyone was thrilled by the colorful bubbles.
What Could Be Improved?
Although I absolutely love the Max Bubble Gun, there is one area where it could improve: the time to charge the battery.
It takes about 4-5 hours to fully charge the battery, which is a bit too long, especially since it only runs continuously for two hours. So, if you plan on using the gun for longer, you will need to keep charging it every few hours.
Why Is the Max Bubble Gun Good for My Kid?
The Max Bubble Gun is great for all kids, especially those looking for a fun way to play indoors and outdoors. The continuous-shooting feature, adjustable speed, and colorful lights make it an exciting toy that your kids will love.
As I mentioned initially, my kids love bubbles just like me and have enjoyed every second with the Max Bubble Gun. In particular, in the evening, when it's hard to keep them entertained, the bubble gun has been a real lifesaver since it lights up the entire room.
I can get things done, keeping them busy with the bubble blaster without fear of spills or mess. It is also safe for kids, and I can rest assured that they are playing with a toy that meets safety standards instead of those cheap plastic ones.
In this era of smartphones and tablets, the Max Bubble Gun is a great way to encourage your kids to go outdoors, enjoy the fresh air, make new friends, and have fun. And, best of all – you don't need to break the bank for it. Given the features and quality of the materials, it's fairly affordable.
User Reviews of Max Bubble Gun: What Are People Saying about the Bubble Blaster?
There have been rave reviews about the Max Bubble Gun from customers nationwide. People are finding many exciting uses for this bubble blaster, from glamming up parties to keeping kids entertained in the backyard or at the beach.
"My 13-year-old girl was too shy to take part in outdoor events. But when I bought her the Max Bubble Gun, she was out of her shell and even made friends with other kids. I'm so happy and relieved."
-Melissa Kedric, Florida
"We recently had a pool party with several little ones, and they all loved the bubble pistol. We kept the kids busy for hours, and we had a blast. Thanks, Max Bubble Gun!"
-Paul Waugh, Arizona
"My niece and nephew love bubbles more than anything. So when I got them Max Bubble Gun as their Christmas presents, they were overjoyed with the perfect gift. They've been having fun with it every day since then."
-Jasmine Saunders, California
"I can't believe I'd be having so much fun with this kids' toy I got as a graduation gift. Max Bubble Gun has sure made my evening gatherings more interesting. Highly recommend it!"
-Hannah Peterson, Wisconsin
Max Bubble Gun Price & Refund Policy
Max Bubble Gun comes in three different packages, each with its respective price tag.
A single pack of Max Bubble Gun costs $46.28.
You can buy two and get one free at $92.56.
Or, you can buy three and get two for $138.85.
Plus, all packages are backed by a 30-day money-back guarantee and free nationwide shipping. You can check out Max Bubble Gun's offer page for further details about each offer.
Where Can I Purchase Max Bubble Gun?
You can buy the Max Bubble Gun from its official website. It's easy to find and purchase, plus you can also take advantage of their discounts and free shipping policy.
Amazon, Target, Walmart, and several other retailers also stock this bubble blaster, though the price is sometimes a bit higher, and they don't offer a similar refund policy.
Frequently Asked Questions
If you still have further questions about the Max Bubble Gun, here are a few answers to some of the most common queries.
How Many Bubble Holes Does The Max Bubble Gun Have?
After counting, I found that the Max Bubble Gun has precisely 69 holes that they use to shoot out bubbles. However, while browsing online, I'd also come across a few smaller variants with only 10 or 18 holes. So be sure to check out the product description for the exact number of holes.
What Events Can The Max Bubble Gun Be Used In?
If you ask me, any event with kids can be made more fun with the Max Bubble Gun. I'd suggest using it for birthday parties, pool parties, beach days, weddings, anniversaries, school events, and the like. The Max Bubble Gun is also perfect for keeping kids entertained during family gatherings.
Do Bubble Guns Really Work?
Yes, bubble guns work. The Max Bubble Gun is a perfect example of how well they can perform. It doesn't require any tedious preparation and works like a charm, producing huge clouds of bubbles with minimal effort. It's a real game-changer for outdoor events.
How Long Does It Take To Get The Max Bubble Gun Fully-Charged?
The Max Bubble Gun requires four to five hours of charging time. As I mentioned earlier, it's the only downside of this product. However, unlike most bubble blasters, the charging time won't be much of an issue since you won't have to buy new batteries.
Can My Kids Use The Max Bubble Gun?
Yes, the Max Bubble Gun is safe for kids of all ages. After my kids, I also got one for my 14-month-old nephew, who had no trouble handling the gun and had a great time with it. Just be sure to supervise your child while they're using the bubble blaster, and don't leave them unattended.
Who Is The Provider of Max Bubble Gun?
Max Bubble Gun is a popular brand for bubble blasters, with over 70 positive reviews on their website. The company is based in the foothills of Atkinson, New Hampshire, and has been in the business for over a decade. They back each one of their products with a 30-day money-back guarantee and free nationwide shipping.
Support Team and Customer Service
Max Bubble Gun has a dedicated team of customer support representatives available 24/7 to assist you with any queries. I had several queries about how the bubble blaster works and the company's refund policy, and I got a prompt response each time.
If you have questions about the Max Bubble Gun, their support team can be contacted via email (info@bubblegunstore.co) or phone (603 696 3293).
Final Verdict: Is Max Bubble Gun Worth It?
For the quality and the price, the Max Bubble Gun is definitely worth it. If you have active kids and an upcoming event where you'd like to be on top of the list for sought-after party toys, Max Bubble Gun is a solid choice to deliver absolute delight and make your party unforgettable.
A 30-day money-back guarantee also backs the product, so you don't have to worry about your purchase. Whether it's a birthday, family gathering, or any other special event, you can count on the Max Bubble Gun to make it memorable.
Overall, with its long battery life, easy maintenance, impressive performance, and wide range of features, this bubble gun is worth investing in. So, don't wait to get yours today and have a blast!