To repair something in our household, we need proper tools. In that case, most of us purchase a toolbox where multi-tools are available. Carrying a toolbox is a matter of irritation, and we feel bulky picking it up anywhere, isn't it?
What would it be if we could do multiple tasks with a simple key?  It may come to your mind that it is almost impossible, right? But, the fact is it is not far-fetched anymore. There is Keyzmo multi-tool that can be used in different jobs as this single tool features a screwdriver, bottle opener, a serrated edge, wire binder, bike spoke key, scoring tip, and many more.
A few days back, I purchased one by getting a suggestion from one of my friends. I have already used it for a couple of days to accomplish different jobs. So, I thought it would be better for other users if they know more about it.
Keeping this thing in my mind, I finally have decided to write the Keyzmu Review from my user experience. Hopefully, you'll get an unbiased review that clears all confusion that you have about the Keyzmo.
What Is Keyzmo?
The first thing that I would like to discuss with you is what actually Keyzmo is. In simple words, it is a handy tool that can be used to accomplish hundreds of tasks with ease from opening bottles to the binding wire.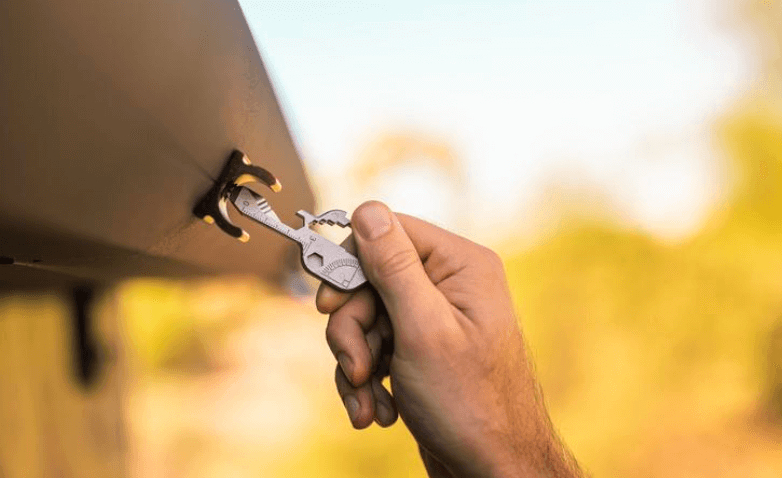 You'll get the device only online that comes with a military-grade design that works as a screwdriver, wrench, bottle caps opener, scoring tip, serrated age, and many more. It is a TSA[Transportation Security Administration] law-abiding that you can carry wherever you go.
You don't need to carry an entire toolbox thinking about repairing something if it is needed while traveling. Because it is easy to carry a key instead of a toolbox. Keyzmo is a 16-in-1 multi-tool that can be simply placed into your pocket and provides you with the tools you need for any kind of job.
Its unique design makes it attractive and distinctive from other similar multi-tools. Besides, the best thing is, you can take it on an airplane.
How Does Keyzmo Work?
Now, let's see how Keyzmo works. It is mostly similar to the Swiss Army Knife and any other multi-tools, offering you over a dozen uses with a single device. However, it is a bit different from traditional multi-tools because of its extraordinary design and unique shape. Keyzmo has all its features in a single piece of stainless steel.
I have already mentioned that this device works as a bit driver, screwdriver, or bottle opener. So you don't need to purchase them individually to accomplish your task. For instance, if you unscrew a laptop, or disassemble a fan that will require a screwdriver, and a wrench respectively, you can accomplish both tasks with a single key.
The Keyzmo also functions as a ruler, wire stripper, protector, and file as well; thus, it is needless to purchase these types of tools individually unnecessarily, isn't it? So, if you would like to do handy work around the home, be prepared for travel, or gift it to someone you love, Keyzmo holds a range of tools that will make your life much easier.
Who Is Keyzmo Ideal For?
Who should get this multi-tool, or who will be the most benefited one with the tool? Well, if you're searching for the perfect gift for the gadget-loving guy, this can be one of the best things for you to give him/her as a gift that's endlessly useful & giftable that almost everyone will love for sure.
This multi-tool device will be ideal for everyone including men, women, children of all ages, DIYers, campers, fishermen, hikers, bikers, car freaks, techies, small project doers, and even computer maniacs.
Since it directly fits into your pocket, you can carry it anywhere, always wherever you go, whatever, I can assure you one last thing, you'll never regret buying this tool no matter who you purchase it for.
Keyzmo's 16 Functions
Keyzmo contains 16 tools in a single device. Here is the list of 16 tools that you'll be up to using to accomplish different tasks.
Screwdriver
There are 4 screwdrivers available on Keyzmo that will enable you to screw in four major types of screws. Different edges of the device hold different screw tips. You can use these screws manually. These are slotted [#⅔] screws, square [#⅔] screws, Philips [#⅔] screws, and combo [#⅔] screws.
Bit Driver
You'll get a ¼'' bit driver included on the Keyzmo.
Bottle Opener
Keyzmo contains a bottle opener that you can use to open any type of bottle.
Closed Wrenches
There are 2 closed wrenches embedded on Keyzmo. One of them is an imperial-closed wrench with 1/8, 3/16, ¼, 5/16, ⅜, and 7/16. The other one is a metric-closed wrench with M8, M6, M5, M4, M3.5, and M2.
Serrated Edge
Keyzmo doesn't contain any knife or blade, but it has serrated edges that can cut certain materials. Thus, you can carry it anywhere, and don't forget it is TSA and airplane-friendly.
File Edge
It is using the attached file on the edge of the Keyzmo.
Can Opener
There is a can opener on Keyzmo that will enable you to open cans of food anywhere you go.
Ruler
Keyzmo has a ruler as well that can be used to measure items in imperial or metric units.
Protractor
The device includes a protractor that you can use to calculate angles.
Bike Spoke Key
The bike spoke key is another important tool that can be used to repair a bike during travel if needed
Wire Stripper
To remove the coating from wires you can use the Keyzmo as it comes with a wire stripper.
Lanyard Hole
It holds a lanyard hole that makes it easy to clip the device around your neck, or you can place it on a keychain.
Wire Bender
You can simply bend wires using the wire bender easily.
Scoring Tips
To get crisp, clean folds on cards, boxes, and bags, the scoring tips will help you most.
12 Point Wrench
The 12-point wrench you will get on the upper point of the device that you can use to tighten or loosen nuts and bolts.
Benefits of Keyzmo Multi-Tool
There are several benefits you'll get after purchasing the Keyzmo multi-tool. In this segment, I have given a list of benefits that will attract you to have the device.
16 Tools in 1
There are 16 tools included in the device that I have already mentioned in the above segment. That's why you may think that it is not durable enough. But, the fact is, the manufacturer of this product has clarified that it is storing enough to handle the 16 tools properly.
Compact & Portable
It has already been mentioned that the device comes in a compact size, and it is portable as well. As a result, you will be able to carry it anywhere just by putting it into your pocket. It is a TSA-approved device; so, you can carry it on an airplane as well without confronting any complications.
Made of 420 Stainless Steel
This amazing product has been made of a hardened 420 stainless steel that has been confirmed by the manufacturer. This feature of the Keyzmo makes it one of the most strong and durable multi-tools you ever get. Plus, this device is strip resistant with flameproof properties. It is rust-free too which ensures it won't get damaged easily by moisture.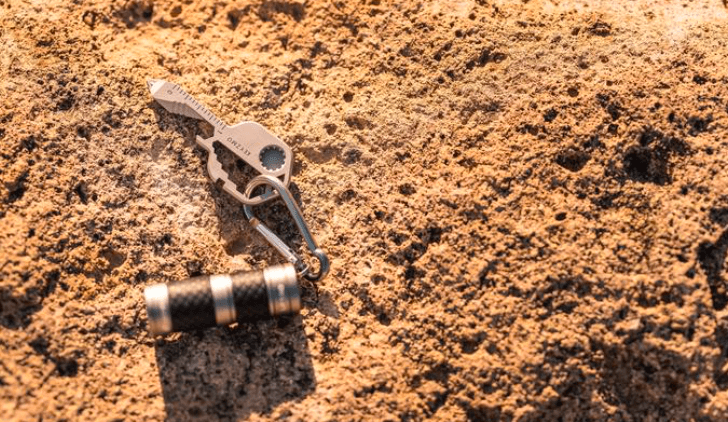 Best Customer Support
The customer representative of the company is highly skilled and professional. If you have any problem, you can contact them, and it is for sure, you'll get a reply as early as possible.
Fast And Free Shipping In The USA
The manufacturer of the device offers fast and free shipping if you order from the USA. So, you don't have to wait much time to get this handy product on your hand.
Pros And Cons Of The Keyzmo
Here are the pros and cons of the Keyzmo multi-tool.
Why Do People Love Keyzmo?-Online Reviews
There are so many reasons to love Keyzmo. It holds 16 tools in a device that can be used in different tasks. In this segment, I have given some users reviews who have benefited from using the device. Let's check them out.
Where To Purchase Keyzmo
Purchasing Keyzmo is a simple task. You just need to go to the official website of the product. After that, choose a deal that you would like to purchase depending on your needs and budget. Click on the "Order Now" option, and you will be taken to a new page where you have to provide your address and card information to confirm your order. Once the order is confirmed, wait until you get the product.
How Much Does It Cost?
Keyzmo is an affordable product that will be worth your money. However, if you purchase a single product, it will cost $29.99 which is a bit expensive. In that case, you can purchase 2 pieces of the product where you'll get a free single product. This deal will cost you $19.99/each.  You can go for the most popular deal where you'll get 2 free if you purchase 3 pieces, and they will cost $17.99/each. If you would like to save more money, then go for the best deal where you can buy each of the products for $17.14, but you have to purchase a minimum of 4 products, and you'll get 3 products for free.
How Does Keyzmo Refund Policy Work?
If you don't get satisfied after purchasing the product, you can return it and get your money back. The company of the product offers a 30-days money-back guarantee. The best part is that you can return your product without confronting any hassles. But, keep in mind that you won't get the shipping charge back if you return your product.
Manufacturer Of Keyzmo
Keyzmo is an American company that manufactures a device that is based in Scottsdale, Arizona. According to the company, its mission is to help millions of people stay prepared for life's little problems.
Support Team
If you have some questions regarding your order or technical support, you can contact the support team of the company, and they will respond as early as possible.
Email- keyzmo@giddyup-support.com
Address- Keyzmo, 9160 E. De, Camino Drive, Scottsdale, AZ 85258
Frequently Asked Questions
I have answered some questions that may come to your mind if you are supposed to purchase the Keyzmo multi-tool.
What Is Keyzmo Made From?
Keyzmo is a durable device that is made from 420 stainless steel. Besides that, it is rust-resistant, which means it won't get damaged by moisture, and you can use it for a long time. This device is also strip-resistant, and flameproof which makes it different from other multi-tools.
Can Keyzmo Be Taken On An Airplane?
It has already been mentioned that the Keyzmo is a TSA [Transportation Security Administration] approved. It means you can carry it on an Airplane without any restrictions that you can't with a Swiss army knife or other multi-tools.
What Is The Size Of Keyzmo?
The Keyzmo measures 2.76 inches wide, 1.15 inches tall, and 0.2 inches thick with an average of 0.75 oz.
Can I Fit Keyzmo In My Pocket?
Keyzmo is a handy product that will fit into your pocket easily; thus, you'll be up to carry anywhere you go. It has a lanyard hole that makes it easy to clip the device around your neck, or you can place it on a keychain.
Final Thought
Keyzmo is indeed one of the most crucial tools that you may need in your daily life to repair household things. It is a compact size device and portable that comes with 16 tools. So, you don't need to carry a heavy toolbox to repair something in your house, office, or your bike.
However, in this article, I have tried to give all the relates to the Keyzmo. The Keyzmo Review I have demonstrated is written from my personal experience as I have used it for a couple of days.
I will recommend purchasing it. If you don't get satisfied after using it, you'll get your money back as they offer a 30-days money-back guarantee.