The modern world is unthinkable without smartphones or tablets. People of all ages use these gadgets every day for uncountable purposes. But most activities on smartphones or tablets do not require constantly holding the device.
So what can help us get rid of holding the devices for a long time and still use them when necessary? Well, I got my hands on a revolutionary small, and compact smartphone mobile tablet stand named GoDonut, which helped keep my hands free and enjoy the contents on them effortlessly.
This article includes my first-hand experience with GoDonut using it on various occasions. I hope readers find it useful and discover how to use this device effectively and where to get it conveniently.
What Is GoDonut?
GoDonut is a straightforward yet very effective mobile stand. It is compatible with almost all smartphones and tablets with screen sizes up to 9.5 inches.
This small and minimalistic gadget helps keep my mobile phone standstill while I can easily use it directly or indirectly. It has two grooves with six possible positions for smartphones and tablets.
With these positioning designs, I have enjoyed the best possible view of the screen from different angles while I'm idling or doing other chores at home or the office.
The feeling of this gadget in my hand is very sturdy and well-built. It does not seem like it is easily breakable, intentionally or by accident.
How GoDonut Works?
The GoDonut mobile stand has a very simple working principle. I simply put it on any type of flat surface, and guess what? It is ready to use.
All I need is to put the smartphone at my preferred angle and position, and it holds the device for me with no time limit whatsoever. One of the best things I found using the device is that I don't need to assemble it, unlike other phone stands on the marketplace.
Besides, there are no small movable parts that require tightening or loosening for better stability and viewing angle. It really saves my time while using this gadget.
Unique Features Of GoDonut
Using GoDonut for a while, I found many interesting and unique features of this small gadget.
Amazingly Compatible
Let me start with its amazing feature of compatibility. Its groove designs are made in such a way that allows putting any smartphone, irrespective of brand, thickness, and screen size, on it quite easily.
I've actively used the gadget to use my android smartphones and iPhones, and the result is equally satisfying. Apart from that, sometimes I also use my iPad, which perfectly fits all the grooves without hassle or adjustment.
Minimal Weight
This small gadget's amazing weight compatibility amazes me as well. No matter which device I use, the GoDonut holds it with perfect balance and no accidental tripping or falling on the surface.
Hence, it makes me feel comfortable and safe to use this gadget with any device.
Cute And Compact Design
The next thing I cherish about the GoDonut while using it is its size and dimension. It is not a very big or complicated gadget.
Rather, the design and size are so simple that I am not bothered while carrying or storing it.
Its small and compact size takes the portability to another level. With the minimal weight only around, I can easily carry it to the office, café, or any other place without inconvenience.
Moreover, I use it while traveling and on an outing since it doesn't take up much space inside my backpack.
Multiple Grooves For Increased Functionality
Coming to the next, the availability of multiple groove types and slots for holding the devices made my life easier. I can put my tablet or smartphone in any position according to my preferences.
Its six positioning types become well-adjusted with my working, sitting, or standing positions.
Moreover, I can place my phone in portrait or landscape in three angled positions. This gives me a lot more comfortable and eased viewing angles keeping my hands free.
Sturdy Construction
Another thing about the GoDonut I like is the premium build quality; it is not like other cheap mobile stands on the marketplace. The high-density rubberized material ensures it does not get damaged easily on accidental impacts.
Hence, I can use it for a long time without any replacement. The grip of the bottom of GoDonut is well-made and suitable for most surface types. I keep it easy on the kitchen slab, tables, etc. it holds the devices very stably on any surface, which gives me confidence.
Limitless Usability
GoDonut's most impressive feature is its usability. It gives me immense pleasure and hassle-free to use it for so much work. Importantly, it helps me in video conferences, multitask while working, such as texting or web browsing, and lets kids conveniently watch educational videos.
Again, I also use it for entertainment purposes, such as social-media surfing, watching videos, using a stylus, etc., without even using the device. Sometimes I use the GoDonut for photography and videography since it can hold mobile phones in a very stable way.
What Makes GoDonut Standout?
After using GoDonut for a decent amount of time, I feel its compatibility, usability, and portability make it stand out from other similar gadgets. I have used it for personal, professional, and traveling time.
Watching movies or YouTube videos in my spare time face timing friends and families has become very easy using GoDonut.
Moreover, utilizing the exercise schedules through apps helped me a lot. Because it is difficult to operate mobile applications and perform workouts simultaneously.
The GoDonut keeps the device stable at a perfect viewing angle, whereas I do my workout sessions conveniently.
Why GoDonut Important?
The use of portable devices such as mobile and tablets are becoming an irreplaceable part of our lives since it gives a hands-free experience. Hence, the importance of associative gadgets such as the GoDonut is also increasing.
I use GoDonut for three main purposes, which are inevitable in my life. These are for professional and personal use. The following listing shows the most important uses of GoDonut.
Personal Use
Web browsing,
Playing video games,
Social medial interaction and surfing,
Watching reels, videos, or movies,
Texting and using a stylus for drawing purposes,
Taking selfies, photos, and videos,
Using workout applications while performing an exercise,
Watching recipe videos on YouTube and cooking at the same time,
Letting kids learn new things by watching and interacting with the devices.
Professional Use
Attending video calls, video chatting, and conference meetings,
During presentations and interviews,
Texting by typing or chatting,
Creating promotional videos and reels for commercial purposes.
How To Use GoDonut?
Using the GoDonut requires no special or prerequisite skills. It is completely ready to use out of the box. I keep it on a clean, flat surface for better grip and safety.
And afterward, I put my device in one of the grooves with an adjusted angle so that a comfortable angle is achieved and requires no touching. I didn't require special tools or small parts assembly to set up my phone on the GoDonut.
Is It Safe For Mobile Phones?
The GoDonut feels very premium, sturdy, and well-made in my hand. Hence, it is very safe for mobile phones from every brand and manufacturer globally.
There are no accidental stories from my side while using the GoDonut. Moreover, its high-quality rubber-like material and well-patterned bottom ensure a stable and strong grip on most types of surfaces such as wood, marble, glass, metal, plastic, or concrete, etc.
Specifications of GoDonut
While surfing and researching the GoDonut on the web before making a purchase, I found a lot of impressive and unique specifications. The most usable and worthy mentions are as follows:
Supports most smartphones and tablets with or without cases up to 12mm or ½" in width.
Compatible with the most brand of smartphones or tablets with screen sizes up to 9.5 inches.
Available in two different slots and grooves designed for six different positioning ways.
Available in multiple finishes and a wide range of color options.
Rubberized building material with a good grip on the bottom.
Pros and Cons of GoDonut
After using GoDonut, I found several positive and negative sides. Here are some worth mentioning pros and cons of the GoDonut that I have experienced lately.
Is GoDonut A Scam Or Not?
The GoDonut is a genuine gadget and not a scam. I've been using the product lately for several purposes. Besides, the online gateways through which I got the GoDonut is authentic in every possible way.
Along with that, GoDonut is available in global e-commerce marketplaces such as Amazon.
Is GoDonut Any Good?
It's a secure, safe, and sturdy mobile phone stand suitable for most android smartphones and iPhones.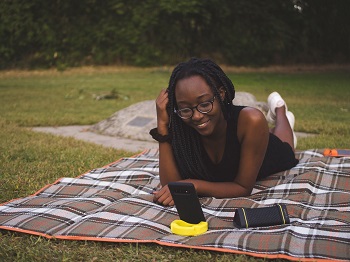 Besides, the GoDonut is a small and very compact gadget compared to other stands making it portable enough to carry anywhere without compromising space in luggage or backpack.
The minimal yet reasonable price makes the gadget even more attractive. For all these, I think GoDonut is a must-buy gadget in the current smartphone-oriented time.
What Are Customers Saying About GoDonut?
G.Christian, USA
Using it as workout assistance
I keep my Samsung S9 on the GoNut and leave it o. the floor or table. It helps me watch the tutorials and perform the workout procedures very easily. There is no need to pause and watch as it can be done simultaneously.
Nina, USA
It works great in chats or call
GoNuts groove angles are perfect for quick typing and swiping. It helps me chat flawlessly while doing other work. Besides, the stability of this product is good for attending video calls in portrait or landscape mode.
Dobre Czasy, USA
Watching movies has never been so easy!
The GoDonut made my life easier as I can watch live streams, sports, Netflix without any hassle. It readily sits on my bed, couch or table causing no disruptions on the bezel of my iPhone. I can attach the charger as well!
GoDonut Universal Price & Money-back Guarantee
GoDonut is being actively sold in most parts of the world. The great thing is that the gadget's price is the same everywhere. I got it for $30, except for the shipping.
The official website also declares a 30-days money-back guarantee or exchange policy. Hence, if I am not utterly satisfied with the product, it is possible to claim an exchange or money back within thirty days of the purchase date.
Where Can I Buy It?
GoDonut is globally available through many online e-commerce platforms. But the best-suited place is the official website of GoDonut to make a safe purchase.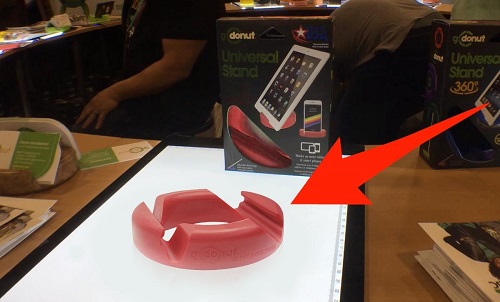 Its official website offers the best and original GoDonut at a reasonable price. Along with that, I got a 30-day money-back or replacement guarantee in case there is some fault with my product.
Frequently Asked Questions
The following basic questionnaires about GoDonut help clear confusion and doubts regarding the product.
What is GoDonut made of?
GoDonut is made of high-density rubber-like plastic material. It ensures the durability and sturdiness of the gadget. Hence, it can stay stable on a surface, securely holding smartphones or tablets.
Does GoDonut work with a phone case?
GoDonut works with non-bulky phone cases only. It is designed to hold phones or tablets without any case. But some extra space is provided for convenience if a device with a case is installed. It can be up to 12mm or 0.5 inches in thickness without any hassle.
Does GoDonut work with iPad?
GoDonut works well with iPads of all generations. The screen size limit is up to 9.5 inches. Since most iPad displays are under the limit, GoDonut is compatible with holding the iPads.
But iPads are recommended only in landscape mode with the GoDonut. It is because the unequal weight distribution with the size can cause tripping or falling over the surface.
Who invented GoDonut?
Two young entrepreneurs named Raymond Alonzo and Nina Seyedabadi founded GoDonut. After ensuring all the product's benefits, they patented the idea, which was globally released.
Since then, it has been loved by many users worldwide, and its popularity is increasing thanks to inventors.
Can a mobile device be charged while resting on GoDonut?
Mobile devices can be charged while keeping them rested on a GoDonut. But it should be placed on landscape mode only to do so. Since most smartphones have their charging socket at the bottom, it gets blocked by GoDonut.
There needs to be a passage for inserting the charger socket through the GoDonut. That is why mobile phones can only be charged in landscape mode while resting on GoDonut.
Does GoDonut only support mobile devices?
GoDonut is designed to support both mobile phones and tablets. The grooves are made so that I can easily pass through my android smartphones/tablets, iPhones, or iPads easily.
No special adjustment is required to use tablets instead of smartphones since GoDonut is also a tablet holder.
Does GoDonut block screens or buttons on any device?
It does block a slight amount of notch of the display when placed in portrait mode. Therefore, I found it blocked if the smartphone has a slimmer bezel with home buttons.
Whereas when I use devices in landscape mode keep all the buttons and screen parts free of the blockade. The blocked part is usually the bezel and is negligible.
Is GoDonut Waterproof?
GoDonut is made of hard rubber-type material making it water-resistant and heat-resistant to a great extent. The solid body does not have any negative effects caused by water.
Even if it gets into the water and gets attacked by water splashes, all I do is rub it with a towel, and it is ready to use.
Who Manufactures GoDonut?
GoDonut is an original USA-based product. It was patented and invented by entrepreneurs Raymond Alonzo & Nina Seyedabadi. Although it is completely manufactured in the USA, it is globally available through many online e-commerce sites, including the official website.
Support Team
The support team and customer service have always been helpful in case of any queries. I managed to get sufficient and educative information from the support team of GoDonut regarding the product specifications, prices, and return policy.
Moreover, they are always active through different online media, such as live chat, email, etc., to give instant solutions to their customer base. You can contact us directly through 855 GODONUT (463-6688) or via email which is customercare@godonut.com.
Final Verdict: GoDonut Review
After actively using GoDonut for quite a while, I can say it is a must-to-get phone accessory for all. It doesn't matter being a student, housewife, corporate job holder, or kid.
The GoDonut serves equally to people of every profession due to its innumerable usability and lifetime durability. It saved my time and effort and allowed me to do multiple tasks while keeping my hands off the mobile phones.
I hope this GoDonut review helps new buyers understand the features, pros, and cons of the product and clear any questionnaires or doubts if there are any.