If you are a car owner, an OBD-II scanner is a must, especially if you have ever had a check engine light issue. Whenever this problem occurs, you need the help of a professional mechanic, but the problem can be something very simple that you can quickly solve by yourself. This is when OBD-II scanners come into play.
The two most popular choices for this scanner are the Fixd and Bluedriver. So, which is the better choice for you, among fixd vs. bluedriver? The main difference between these two scanners is- Fixd offers TPMS whereas Bluedriver doesn't and Bluedriver has exclusive features like airbag alert which Fixd doesn't have.
The above 2 gadgets can help you relax by promptly informing you of the vehicle's status. Hence, to learn more about these products and make a full comparison, read this guide carefully.
Fixd Vs Bluedriver: Comparison Chart
Down below in our chart, I will look into a full comparison between Fixd and Bluedriver.
Product
Dimensions
Dimensions
1.5 x 0.5 x 1.8 inches
2.2 x 1.9 x 1 inches
Weight
Customer Rating
Warranty
Connectivity
Connectivity
Bluetooth
Bluetooth
Supported Apps
Supported Apps
Fixd app
Third Party App
Fixd Vs Bluedriver: Detailed Comparison
In this section, I will discuss a complete detailed comparison and see both FIXD Reviews and Bluedriver reviews even though the basic functionalities of both these scanners are the same. But, a few features make them a bit different from each other.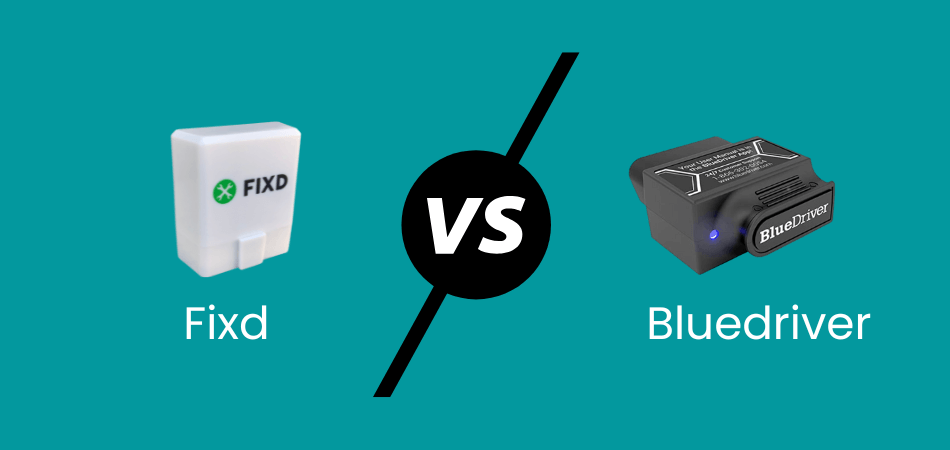 TPMS and Support
First of all the Fixd offers TPMS that ensures vehicle safety which Bluedriver doesn't have. Moreover, Bluedriver Works with only 1 vehicle whereas Fixd can work with 5.
Versatility
Fixd is more versatile as it works with almost all vehicles from 1996 to the latest, along with small trucks and buses. Bluedriver has also supported most cars since the year 1996. But, it works better with some specific car brands than others.
Size
The Fixd has a really compact size and is lightweight but the Bluedriver has a bigger design and heavier build. So if your dashboard is small then Fixd is a better choice. But, if you are looking for a scanner for very large trucks and huge buses over 6.5 tons then Bluedriver is better.
Exclusive features
Bluedriver has some exclusive features like airbag alert, an anti-lock braking system, and more. You can also download OBD-II error codes directly. Even though Fixd is compatible with all OBD-II codes. But, it doesn't offer advanced features like a Bluedriver scanner.
Price
When talking about the price point, Bluedriver is double the price of fixd and is really expensive. So, on the contrary, Fixd is a better choice for people who are on a budget.
Fixd Reviews
Fixd is a compact OBD-II scanner that will make your check engine light problems easier to detect. It comes with many unique features and functionalities.
Dimensions and Suitability
The Fixd comes at a dimension of 1.5 x 0.5 x 1.8 inches. Regarding suitability, it is a really lovely product, mainly due to its lightweight and compact design. Fixd has a monitor that saves a lot of time and money by enabling you to check the status of your automobile at any moment.
Moreover, it is compatible with most car models. So, no matter what car you are using, it should work with it. The monitor is designed in such a way that it can show you the full TPMS data and also improves problem detection ability.
Features and Functionalities
Fixd offers some great functionalities that I will look down below.
Maintenance Reminder
You can set up your maintenance period in this gadget, and when the time comes, you will get a reminder for maintenance. Moreover, it has a backup log which makes car upkeep and performing information simple to comprehend.
Works without battery
With Fixd, you do not have to take the hassle of changing the battery every now and then. This device doesn't require any battery to run.
Compatible with All OBD error codes
Fixd is compatible with every OBD error code that exists. Thus, it will save your cost of hiring a mechanic as this scanner can detect almost all issues, and you can check how serious the problems are.
Real-Time Diagnosis
Whenever you are running the car, Fixd will make a real-time diagnosis, which means you can easily detect if your car is running through any specific issues.
Supported Number of Vehicles
All gas-powered cars manufactured in 1996 or later and all diesel cars produced in 2008 or later versions are functional with the FIXD OBD2 scanner. You can also use this device on buses, but the weight must be less than 5.8k kgs.
How to Use
It is very easy to use the Fixd scanner, and you can do it with just two simple steps. Just make sure to follow them accordingly, and you should be able to set up the product quickly.
At first, you will need to download the Fixd APP; it is available in both IOS and Android. Then turn on the Bluetooth of your phone and set up your account. Here your phone will get automatically paired with the Fixd sensor.
After that, turn on the time period for the repair maintenance alert and enter the sensor code; you can find the code in the device's manual. After that, start your vehicle. Connect your Fixd sensor to the OBD2 connector beneath your dashboard while the car operates.
The app will look for a sensor in the area. Once the app detects the device, hit "I discovered it " and input your car's id and VIN. Now that your sensor is linked, you may use your app to do quick scans.
Pros & Cons
No products come without some negatives, and the same goes for Fixd. So, below I will look into a few of the pros and cons of this product.
Affordability and Price
The Fixd scanner comes at a price of $55.0 on amazon. You can also order directly from the Fixd website and can enjoy free shipping around the United States. Moreover, when talking about affordability, it is also one of the cheapest well-performing OBD-II scanners available in the market currently.
Bluedriver Reviews
Bluedriver is another popular OBD-II scanner and one of the biggest competitors of the Fixd. However, bluedriver has many different features than the Fixd scanner, and I will look into all these down below.
Dimensions and Suitability
The Bluedriver comes at 2.20 x 1.90 x 1.00 Inches with a weight of 60g, making it heavier than the Fixd scanner. Furthermore, it is built in such a way that it is one of the most precise scanners available.
It'll work with practically any automobile made between 1996 and now. However, it can only function with one vehicle, whereas the other scanner can handle up to five.
Features and Functionalities
Since I already mentioned that this scanner is accurate, the features make it stand out.
Anti Lock braking System
Fixd also comes with an anti-lock braking system. This feature will track your car's wheel speed, and if a wheel lock is observed, a sensor gives a signal to a microcontroller, which instantly lifts and presses the brake.
Live Data Reading
It may create a report for your car for each DTC that includes suspected reasons, reported remedies, and much more.
Comprehensive information sharing options are available on the BlueDriver gadget. You may mail or download the OBD-II error message saying and fix data from there.
Airbag Alert
The Bluedriver can warn you of the presence of a faulty airbag. As a result, it signals that such a system malfunction has been discovered, and there can be problems with airbags. So there is a high chance that airbags may fail to deploy in the case of a crash.
Freeze Framing
It is a pretty exciting function that the bluedriver offers. It freezes the touch screen information, making it easier for you to read the complete report.
Supported Number of Vehicles
This is where the bluedriver falls behind. It can only support only one vehicle but can offer a more accurate diagnosis for any automobile model from 1996 to the present. However, it does not work with all vehicles and is most effective with BMW, GM, Volkswagen, Toyota, Nissan, and Honda.
How to Use
Detect the OBD port on your car at first; it can be in different positions depending on your car's model. Search the net to find the exact location of your car model. Then connect Bluedriver to that port and download the app on your mobile.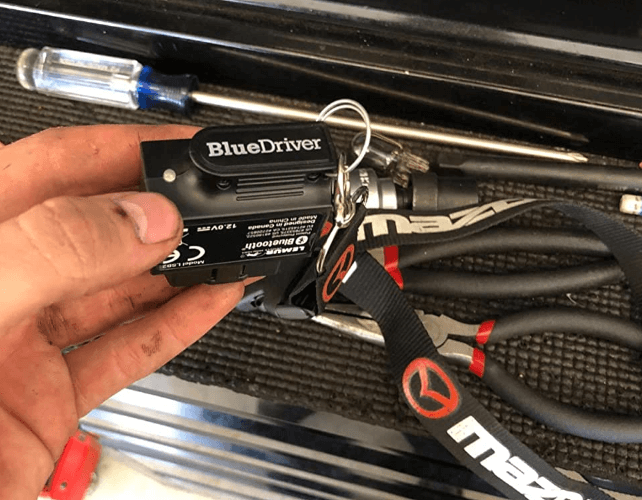 You will find the connect option in the app. As soon as you select that, the Bluedriver will get connected, and lights will start flashing. Now you are ready to use the scanner.
Pros & Cons
Down below, I will look into a few of the most important pros and cons of the Bluedriver, which will make your decision easier.
Affordability and Price
The Bluedriver is a costly device with a price of $100 on Amazon with free shipping. Even though the price might seem high, it is justified due to the unique features it offers, like downloading OBD-II error codes, airbag alerts, and many more.
Fixd Vs Bluedriver: Our Recommendation
Now, let's talk about the most important question: which one should you choose between Fixd and Bluedriver. While comparing overall performance, both of these will satisfy any car user.
But, looking at deep down performance, the choice needs to be more specific. I will recommend Fixd over Bluedriver, and there are many reasons for it. The first is the affordable choice; it comes at half the price of the Bluedriver and still provides TPMS. It is also relatively compact and very easy to use. Most importantly, it can be used on five different vehicles.
But then again, Bluedriver offers some exclusive features like airbag alert and anti-braking technology. So, if you want access to these exclusive features, choose Bluedriver.
Conclusion
OBD-II scanners not only detect OBD-II error codes but also provide additional safety and maintenance features for your cars. Thus, it is a must if you want your vehicle to perform flawlessly for a long time.
However, the choice between Fixd Vs Bluedriver can always be confusing. Hence, today in this guide, I reviewed both of these products, and now you can easily decide which is the best device for your car. Choose the scanner that best suits your needs.