Visiting the hospital for a monthly routine check up not only takes up your valuable time but also it becomes a fixed expense at the end of each month. What if there was some sort of device that can monitor your health and provide you constant updates?
That sounds like a dream come true! A health monitoring system provides you with different measurement criteria from where you can take notes of which portion of your body requires extra care. Some include body fat, protein intake, bone density and so on.
Two common names that arise in my mind- FitTrack and Renpho. But which one is better? To save you from such indecision, I have conducted detailed research on FitTrack vs. Renpho so that you can end up with the perfect and most suitable health monitoring device in your house.
Key Takeaways:
FatTrick provides 17 different options for the measurement of your health parameters. On the other hand, Renpho provides only 13 options.
FatTrick costs around 60 dollars whereas Renpho will cost only half, which is 30 dollars.
Though FatTrick comes with more measurement options, the readings are more accurate in Renpho.
FitTrack Vs. Renpho: Comparison Chart
Product
Health Monitor Type
Health Monitor Type
Smart BMI Digital Scale
Smart Body Composition Wi-Fi Digital Scale
Weight sustainability
Weight sustainability
400 lbs
396 lbs
Maximum users
Connectivity
Connectivity
Wi-Fi or Bluetooth
Wi-Fi or Bluetooth
Measurements options
Measurements options
17
13
Material
battery
battery
4 AAA batteries
3 AAA batteries
Accuracy in measurements
Accuracy in measurements
Less
More
Warranty
FitTrack Vs Renpho: In Detailed Comparison
FitTrack and Renpho both are leading the industry. Let's have a close look at which one is better for you.
FitTrack Review
What is FitTrack?
FitTrack is a health monitoring system that comes with a weighing scale and measures about 17 different compositions of the human body. The most important feature of FitTrack is that it is wireless. Therefore, you can hook it up with your cellphone via Bluetooth or Wi-Fi connection to get the necessary updates of your body.
Among 17 different measurements, some of the vital measurements that will gather your interest in a blink of an eye are body weight, BMI, Fat percentage, Bone density, Water intake level, Muscle weight, Obesity level and so on.
One simple set up and you can get your health update at any time you want. It is way better than going to a doctor on a scheduled appointment and waiting for a day or two to get the results of different test reports.
How Does FitTrack Work?
You might be wondering about the function of this health monitoring device. Well, it uses a minimum amount of voltage to generate an electrical pulse that travels throughout your body. Different obstacles such as body fats, cholesterol level and bones act as a resistance to the current path which is then recorded and the amount of resistance is shown on the display of the device.
These readings will tell you about your health condition and further notify you whether you will need medical treatment or not. Remember one thing, the key of FitTrack is to monitor your health, not to cure it!
Key Features
It comes with 17 different health measurement parameters.
Bluetooth connection is available for faster response of the parameters.
You can easily login with 7 more people to monitor your health.
It requires 4 AAA batteries to power up to provide for a long backup.
The manufacturers included lifetime warranty and 30 days money back guarantee if you are not satisfied with its performance.
How to Use it?
This FitTrack health monitoring system comes with an application which is available in the Play Store. Once you have purchased the case, all you need to do is download the app from the Play Store and pair the device with your smartphone with the help of Bluetooth.
After the pair-up has been completed, it will generate any health parameter on your smartphone's screen. Note that you should use the device keeping it in a close range with your mobile's Bluetooth connection.
How Much Does FitTrack Cost?
The price of the full package of FitTrack will cost you not more than 60 dollars. Therefore, you can consider it cheap in comparison to all those amazing measurement features.
Renpho Review
What is Renpho?
It is another type of health monitoring system that mainly focuses on the measurement of body fats in your body. Starting from BMI, Body fat level to skeletal muscle, bone density, water percentage and so on, there are a total of 13 different parameters that you can measure with the help of Renpho.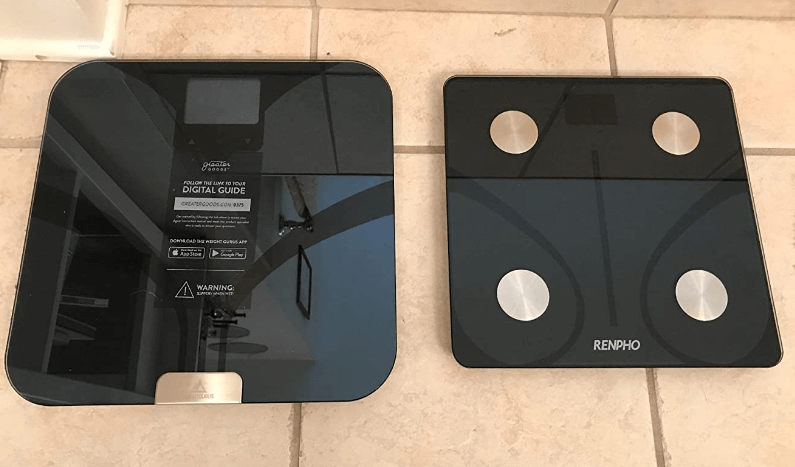 Additionally, it can also measure nutritional components inside your body so that you can keep track which ion or nutrition your body will mostly need.
How Does Renpho Work?
Like the Fittrack app, Renpho also comes with an application that is available in the play store. Download and pair your smartphone with Renpho. Once you stand on the scale, the device will send a short voltage of electrical pulse to your body which helps to bring out the necessary metabolic readings from your body.
Remember that the Renpho app is also available in German language. Therefore, if you are rusty in English and shine in German, Renpho is there to rescue you.
Key Features
It allows 13 accurate and precise measurements- Weight, BMI, Muscle mass, Body fat, Water percentage, Fat-free body weight, Subcutaneous fat Skeletal muscle, Bone mass, Metabolic age, Protein, Basal metabolism, and Visceral fat.
Nutritional components measurements are also available in Renpho.
Bluetooth connection is available to pair with the smartphones.
You will require 3 AAA batteries to operate this health monitoring system.
It can also measure the heart rate of a person while standing.
The manufacturers of Renpho offer one year warranty and 30 days money back guarantee if you feel like the device's performance is not up to the mark.
How to Use it?
I am assuming that you have installed fresh 3 AAA batteries in Renpho and it is functioning properly. Now download the Renpho app from the play store. Once you are finished downloading, install it and set the Renpho weighing device with your Smartphone's Bluetooth.
After that, stand on the scale for 4 – 5 seconds so that Renpho can monitor your different health parameters. Followed by that, you will see your smartphone viewing some notifications about your standing heart rate, body fat, water level and so on.
How Much Does Renpho Cost?
One package of Renpho costs about 30 dollars which is half of FitTrack. Therefore, if you have a kin budget, Renpho is the one you should consider first.
FitTrack Vs Renpho: Which One Is Better?
In terms of durability and warranties, you can declare both FitTrack and Renpho as champion. But that should not be the top-most concern of yours. If you want to have more options of measurements, FitTrack will be most suitable. But it is heard that some of the measurements may not be accurate. On the other hand, Renpho does provide lower options for measurements, but the readings are said to be accurate.
Additionally, Renpho costs much less in comparison to FitTrack. Both have reliable Bluetooth connection, and both require AAA batteries as a power source.
Conclusion
In a world filled with many severe health conditions, it is a good practice to frequently monitor yours just to stay on the safe side. Having a reliable health monitoring system in your house helps you to continuously monitor your health.
If you're looking for numerous reading with excellent durability, then FitTrack is suitable for you. However, you have to pay a lot more compared to the Renpho. On the other hand, Renpho is more budget-friendly with super accurate data. So the final call is yours!