Thinking about enjoying nice food as you drive? That's good. But what about the risk of spilling it all over the seat if you hit a bump? No worries. The hero of this article, "CupStation," targets this problem. It ensures you enjoy a comfy ride without looking for stuff all around the car.
But, here comes the same old doubt. Is the product worth all the hype?
Even though the price is pretty low, you still want to be sure. That's okay. In that case, here's my detailed CupStation Review for you. Not every user will experience things the same way I did. But knowing the features, how it works, and its limitations might help you decide for yourself.
So let's get started without further ado.
CupStation Review: A Short Overview
It's best to stay hydrated while driving a long distance. But where do you keep the heavy drinks? Single-cup holders have a fixed shape and can't accommodate cups larger than that. Hence, the need for a product like CupStation rises.
What is CupStation?
CupStation is a genius invention to make your car ride even better. One of the main issues with long drives is that you will get hungry or thirsty. And You must place a food and beverage order.
But the question is, where will you store them? Yes, your car must have a basic cup holder. But is it enough? In my experience, cup holders come short whenever I want to place an extra-large coffee or soda. It's made for a specific size only.
Suppose the item is too small (like my wallet or phone); it will jump out of the holder. On the contrary, a bigger bottle like a hydro-flask would be hard to fit inside the cup holder.
In this situation, all you can do is put the items on the passenger seat and risk damage. CupStation claims to solve this exact problem. It comes with a base and an expandable cup holder.
You can extend it and put large to small size cups easily. The best part is the sturdiness. You don't have to deal with any spill-off at all. The base is absolutely stable and strong.
How Does CupStation Work?
The concept is simple. Cupstation is a portable cup holder with a flexible upper body. The lower body sticks inside the car's cup holder. Extra storage is not necessary if you have only one drink at hand.
However, if the items are more than one, move the arms for more space.
How to Install CupStation In Your Car?
The installation process is a breeze. There's literally not much to do. It was designed for users who are uncomfortable around too much technical stuff. That's another reason why users love this item so much. Here is a little guide to assist you.
Step 1: Read The Instructions
First of all, unpack the box. The package should include at least 16 foam fillers/pads. The smaller your cup, the more fillers you would require. So, start with sticking the pads on the CupStation's base. Once you are done, try to place it within the original cup holder.
Step 2: Stick It Inside The Holder
Check whether the cup feels tight or not. If you think the holder needs to be snug enough, stick more pads on the body. Finally, just put the dual CupStation inside the hole. Now, it's ready to hold any cup you want.
Step 3: Expand The Arms
Use the extra cup holder if you have more items at hand. It's also called the movable arm. Just rotate it until you like the position. You can also expand its base to fit larger bottles. If you wish, you can carry your meal along with a drink using the CupStation.
Why Do You Need A CupStation?
The features look nice, right? But how can it help you? Anybody who loves safety and peace of mind should get a CupStation.
Protects Your Seat
It's super risky to keep drinks and food on the passenger seat. If you are a smart owner, you would know the consequences. A damaged or stained seat is hard to restore.
My advice is to restrict the food items within the holder tray section. But it's not like you don't know that already. Sometimes, there's just no other option but to put in a large drink from Starbucks.
With the help of a 6″-wide movable arm, you can put large bottles and drinks on the top section of the CupStation. So, you shouldn't neglect this product if you are eager to protect the car seat from future spills.
Avoids Waste Of Food
Food waste is common when the cup or box is not snug properly. With every bump on the road, your drinks might spill into the holder. That's a nightmare to clean up.
But you can save yourself the trouble by using CupStation. It has passed the stability test. Hence, even if the road is uneven or you are going fast, your food won't come out of the box/packet. Less waste of food also means less effort to maintain the holder.
Prevents Major Accidents
Keeping things outside the holder is never safe. Suppose you have put the bulky hydro-flask beside your seat. It's quite easy for the bottle to roll down and go under the gas pedal. Unfortunately, one such incident is enough to cause major accidents.
Imagine you are trying to get the rolling object from the car's carpet without focusing on the vehicles coming at you. If you want to avoid it, I would highly recommend getting a CupStation.
Key Features of CupStation
A product like CupStation needs to be true to its features. Otherwise, it won't be different from your car's regular cup holder. So, here are the top-notch features I noticed and loved about the CupStation.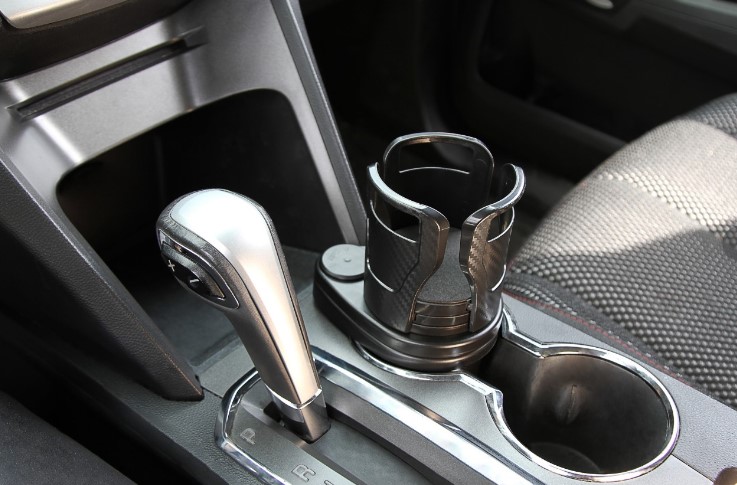 More Storage Space
CupStation equals two typical cup holders. But what does it even mean? Well, the base part goes into the holder and acts similarly. Then, the top section can be both expanded and moved. It works like a second holder and can grip any object tightly.
This feature is quite useful when you require a food tray inside the car. For example, I love letting the expandable arm carry my soft drinks. Next, I put my fries into the base. Do you see how one cup holder has been transformed into a two-in-one tray? All thanks to CupStation.
360 Degrees Rotating Base
The upper portion of this versatile cup holder can rotate to 360 degrees. You can attach the drinks here and keep them far or close according to your wish. You can easily choose your position by rotating the arm from 90 to 180 degrees.
I have found the rotation to be smooth and sturdy. You can hear the click sound once the arm is locked into a specific position. The arm won't change this position even if you make it carry a heavy item.
Tight Fit
With a product like CupStation, the core strength is its grip. If the fit isn't tight enough, the items will easily fly out of the holder. It's risky when you are driving with a hot cup of coffee beside you.
Luckily, the manufacturers provide adhesive foam spacers (not one, but more than 10) to save the day.
Such fillers can be attached to the holder's body. The purpose is to reduce the gap between the CupStation's body and the base holder. The less gap it creates, you will ultimately get tighter the fit.
Sturdy Design
Using rugged materials is a must for any cup holder. That's why manufacturers designed the CupStation with a carbon fiber texture. In other words, the product has carbon as the core body material. Hence, the product doesn't break and gets damaged easily like flimsy plastics.
Not just that, but it's lightweight and looks sleek at the same time. It will blend perfectly with your car's interior and won't grab much attention.
Some Drawbacks
I have found some features mentioned in the advertisement to be impractical. For example, the CupStation is claimed to support large hydro-flasks full of water. In reality, the extended arms will start to wobble a bit if you put heavy items.
Second, the term "universal fit" has been used several times. According to the manufacturers, the CupStation is usable in every car, boat, and other vehicle. But, many customers have discovered that it doesn't fit into their specific cup holders.
It shouldn't be a fault because each car comes with a different cup holder design and size. It's almost impossible for the product to fit every holder (without any discrimination) tightly. However, the marketing team should specify the types of cars it can access.
How To Clean A CupStation?
CupStation keeps the car seats clean. But it might get dirty during the process. It happens when the coffee mug is too small, and you frequently shift gears. The question is, how to get rid of such stains within the CupStation?
To be honest, it's the same as taking care of a cup holder. Wipe the body using a wet cloth. It's super helpful when the cleaning is done soon after the spill-off. In case you've waited a while, you should use more than water.
Try to spray some regular cleaning agent and let it stay for at least 5 minutes. After that, follow the old formula and wipe it with a wet cloth. It should be enough to keep the CupStation shiny for a long time. The best practice is to take action as soon as you notice any stain or dirt.
Is CupStation Safe?
CupStation is absolutely safe to use. Not just the installation but using it is super easy. The risk of burning your hand due to a random coffee spillage is nearly zero. CupStation is very serious when it comes to sturdiness and stability.
It's safer for both your skin and the car seats. Another common safety hazard is driving too fast on rough terrains. However, CupStation checks that box as well. It is tested to be stable enough to prevent spillage during the ride.
CupStation is one of the safest car accessories for everyday use. You should definitely get it.
What Makes CupStation Very Special?
The ability to point out the exact problem and solve it is the most special thing about CupStation. The manufacturers knew what they were going to do. The product is all you need for a comfy car ride without any worries.
First of all, the product can tightly sit on top of the existing holder. Without this tight fit, CupStation would frequently wobble, reducing its usefulness. Thanks to the fillers, you don't have to worry about that anymore.
Second, the base of a CupStation is smaller than an average cup holder. This small detail allows it to carry smaller cups more easily. You will see the difference when you put a coffee cup inside.
Next, The additional top-tier section compensates for the smaller hole of the base. The arms can rotate and expand by using a little force. As for the size, you can secure a 6-inch wide bottle along with iPads, tablets, and other belongings.
Another specialty is flexible arms. There's no fixed structure for the upper part. It will change shape according to your wish.
These small details indicate how thoughtful the product designers must have been. And that's what makes CupStation so special and unique to me.
What Are Customers Saying About CupStation?
Customers have nothing but sweet words to say about the CupStation. Have a look:
The Dual CupStation is an excellent product! Perfect for my husband, who has to use his GPS while driving but has nowhere to set his phone while doing so.
– Jessica C, USA.
Love the dual cupStation! It makes life so much easier in the van when I have bigger water bottles or cups with handles! It is truly a requirement in every car!
– Kara DiTusa, USA.
It seemed like I was always wishing for a third cup holder. And I love that it can hold my larger water mug!
– Cassie Bornge, USA.
I've always loved the dual CupStation for cars. It increases the availability of more drinks in bigger cups.
-Avery, USA.
CupStation Pricing & Refund Policy
CupStation pricing is reasonable for everyone. However, the best part is its 30-day refund policy. Yes, you can return the product and get your money back if it doesn't suit you. Isn't that great?
CupStation strives to establish 100% customer satisfaction. They don't want you to keep the product if you don't like it. That means you have nothing to lose. Order it now and observe the functionality. If you dislike it, call customer support at (855) 843-4828. You can also email them at Support@LimitlessInnovations.com.
All you have to do is describe your issue and mention the order number and date. You are eligible for a refund if the purchase was made within 30 days. Upon their approval, send the product to the following address: ATTN: Returns, Limitless Innovations, 1412 Ridgeview Drive, McHenry, IL 60050.
Note: Be prepared to pay for the shipping. And wait for 1-3 business days after sending the product.
Where Can I Purchase it?
CupStation is becoming more popular nowadays. So you don't have to worry about its availability. You can easily order it from amazon or Walmart.
However, I suggest purchasing from the official website. You get to see pricing, warranty, and refund policies more clearly here. So, shake off the doubts and order now.
Frequently Asked Questions
Before I wrap up today's discussion, here's a small FAQ section for you. Hope you will find more useful information regarding CupStation here. Check it out.
What Size Bottle Can CupStation Hold?
The maximum capacity of a CupStation is to hold 6 inches wide bottoms. That means you are good if the cups or bottles don't exceed this threshold. But the arms are adjustable/flexible. So, you can move the arms and hold thin or smaller objects.
Can CupStation Fit In Any Kind Of Car?
Manufacturers claim that the CupStation will fit in any kind of car. It doesn't matter which model you use. You can attach the foam fillers to the body and eliminate the distance, which can cause wobbliness. As long as your vehicle has a cup holder, It doesn't matter whether it's an RV, Sedan, or Jeep.
Is This Going To Fit In Any Cup Holder?
The 16 foam fillers make it suitable for different types of cup holders. The base is intentionally kept smaller than regular holders so it can snug inside them easily without squeezing.
Remember that you will require more foam pads to fill the gap if the original cup holder is quite spacious. And do the opposite if you notice the cup holder is narrow.
How To Set Up CupStation?
Just attach the foam fillers around the CupStation's body. Then, gently push it inside the cup holder. Make sure it's tight and stable even though you are driving fast. Finally, grab the head and rotate it around to open up the two parts.
How Much Weight Can It Withstand?
The base of the CupStation can carry as much weight as a regular cup holder. As for the CupStation's arm, it's recommended to put water bottles with no more than 16 oz of water. If you exceed the limit, you might notice instability and vibration as the car cruises.
Who Manufactures CupStation?
Limitless Innovations produce dual CupStation for car riders all over the world. An Illinois-based family owns the company. They have various brands under their belt. Most of their products are used for solving daily critical issues.
For Example, CupStation focuses on reducing the spills of drinks and coffee while driving. Apart from this, you will also find smart products like Bluetooth speakers, portable power, and Charging stations from this company.
Support Team
Did I mention how supportive the customer service is? Well, I am saying it now. The responses are super-fast and helpful. They welcome your inquiries and send useful instructions according to that.
You can reach out to them by email: Support@LimitlessInnovations.com. Make sure to describe your issue to get an appropriate reply.
Bottom Line: CupStation Review
Cupstation is soon going to be a must-have item for every car. I can say that by the amount of love, it has received from customers worldwide. The product design, customer support team, and brand reputation are top-notch. You can't argue with that.
Thus, I suggest ordering one CupStation set for your next car ride. In case something goes wrong, you have the backup of a 30-day money-back guarantee.
So, don't worry about wasting money. But what if the product turns out to be as good as everyone claims? You can finally say goodbye to the messy seats. It's definitely worth the hype it's getting. What about you?