Cockroaches dancing on my toothbrush always terrify me. So I'd always pack it up before putting it in my sink cup. But however clean I keep it, there's always that nagging feeling that unseen germs could lurk on the bristles. Then intriguingly, I came across the Bril UV toothbrush sterilizer.
This little electrical device allegedly eliminates 99.9% of bacteria on your toothbrush within minutes using UV-C light. It claims to disinfect your brush once you place it inside the holder. I was curious to see if it could keep my toothbrush bacteria-free, so I tested it.
And in this Bril review, I'll share my thoughts on its worth, detailing its features, how it works, and the pros and cons to be aware of.
Bril Review: A Short Overview
The Bril toothbrush sanitizer operates electronically with an ultraviolet light chamber that kills germs and prevents your mouth from contracting them. This portable case is designed to protect the toothbrush head against airborne germs, bacteria, and viruses.
To use it, you need to insert your toothbrush inside the UV chamber and wait for the light to work. The process is said to take just three minutes. The UV light also has a self-sanitizing feature that ensures the chamber is clean and bacteria-free.
Bril is developed by Uproar Ventures, a company based in the United States that manufactures other science-backed health and beauty products. The product is available on their website and several online retailers.
What Is Bril Toothbrush Sterilizer?
As I've mentioned, the Bril is a toothbrush sanitizer that uses UV-C light to kill millions of germs, bacteria, and viruses. It's a small plastic rectangular chamber with a UV light inside, an on/off switch and a charging port on the side. There's a hole on one side where you insert the toothbrush.
You simply press the button to flip open the top, insert the toothbrush into the hole, and close it again. The UV light will automatically turn on and start sanitizing your toothbrush. In three minutes, it will turn off, and your toothbrush will be safe to use.
Using natural UV light, Bril kills harmful bacteria that can lead to illnesses and infections, safeguarding one from E.coli, streptococcus, influenza, and similar bacteria. The device's basis is simple: eliminate germs before entering the mouth instead of when they're already there.
What Features Does Bril Have?
The tiny plastic chamber of Bril packs a lot of perks, yet anyone would find it incredibly easy to use as I did. It takes only a button press, no installation, and you're off and running. From my experience, I found these are what makes it stand out:
360-Degree Deep Cleaning
The UV light in Bril surrounds the toothbrush head from all sides, leaving no spot untouched and ensuring a deep clean. Be it the nooks, the bristles, or the surrounding plastic, every inch of your toothbrush head is exposed to UV light.
Simple and Intuitive Design
The rectangular chamber is just the right size to fit most toothbrushes, including those for children, and the hole is wide enough for even an electric brush head to pass through. The one-button operation is straightforward, and the lid snaps open and shut easily.
Fast Sterilization Time
Bril only takes three minutes to do its job, so it doesn't take up much of your time. You can pop your brush in while you're getting dressed or doing your makeup and have it ready by the time you're done.
24-Hour Protection
The UV chamber is self-sanitizing, so it's always bacteria-free. Unlike when you leave your toothbrush out in the open where it's exposed to germs, with Bril, your toothbrush will always be safe. Just put your brush back in the holder, and it will be sanitized and ready for use the next day.
Automatic Shut-Off
The device turns off automatically after three minutes, so you don't have to worry about over-exposing your toothbrush to UV light.
Magnetic Wall Mount
The included wall mount is handy if you want to keep Bril nearby in the bathroom. I like to stick it to my bathroom mirror, so it's always within reach. You can also mount it on hotel bathroom walls without worrying about losing it.
Bril Technical Facts
This UV chamber has more to it than meets the eye. Take a look at Bril's key specifications below.
Dimensions: 2 x 2 x 1-inch
Weight: 2.53 ounces
Germ Kill Technology: UV-C light technology (280-200 nanometers)
Mounting Style: Magnetic Wall Mount
Powered by: 1 Lithium-ion battery (included)
Accessory: USB cable for charging
Why Do I Need This Toothbrush Sterilizer?
You might wonder why you need a toothbrush sanitizer when you can just rinse your brush with water after every use. After all, isn't that what toothbrush holders are for? Well, here's the thing-
Water can only do so much
Water alone barely contributes to a clean toothbrush. Water can remove visible dirt and debris, but it can't kill the harmful germs that are invisible to the naked eye. Only UV light can do that.
How clean your toothbrush actually is?
Think about it this way- would you rather brush your teeth with a 'clean' toothbrush that's been exposed to germs or a fresh toothbrush that's been sterilized? I would rather go with the latter.
It's germier than you think
You never know what those airborne germs from your sink, toilet, and doorknobs might be doing to your toothbrush head. A study has shown that the average toothbrush contains 10 million bacteria, including E.coli and staphylococcus, which can cause strep throat and other illnesses.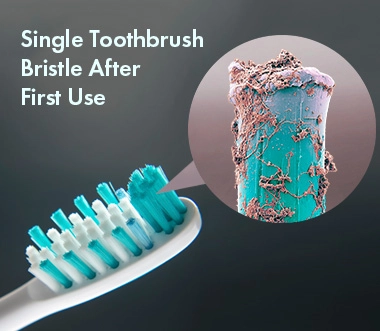 Your toothbrush holders don't sanitize
Toothbrush holders are not even close to as effective as toothbrush sanitizers because they cannot kill germs. All they can do is keep your toothbrush away from other toothbrushes to prevent cross-contamination, which barely amounts to dental hygiene.
You can't sterilize toothbrushes in washing machines
Plus, toothbrush holders are notoriously difficult to clean. You can't just throw them in the washing machine; even if you could, would you really want to? But Bril's 360° UV light surely does the trick.
With Bril, you can be sure that your toothbrush is clean and safe from germs 24 hours a day.
How Does Bril Work?
FDA-approved research states that UV-C light disinfects the air, water, and other non-porous surfaces by impairing the DNA of germs. Various bacteria, such as tuberculosis, can be reduced by UV-C radiation. You might want to relate some germicidal lamps having this property.
Unlike UVB radiation, UVC radiation uses photons to destroy germs' cell walls and protein coats, including the SARS Coronavirus. And UVC leads to the complete inactivation of stubborn germs and viruses by destructing the coating of germs.
Does Bril Reduce the Risks of Oral Bacteria?
The short answer is yes, it does exceptionally well. As I mentioned, toothbrushes can be home to various bacteria, including E.coli and staphylococcus. But with Bril, you can be sure that your brush is bacteria-free.
In one study, researchers found that UV-C sterilization can reduce the number of colony-forming units (CFUs) in our mouth by up to 99.9%, improving our oral hygiene. Colony-forming units measure the number of bacteria present in a sample.
The study also found that UV-C light was more effective at reducing bacteria than boiling water or using bleach. Not to mention, the UV chamber is self-sanitizing, so it's always bacteria-free.
Pros of Bril UV-C Sanitizer
I've been using Bril for over a month now, and I'm genuinely impressed with how well it works.  Initially, I was hesitant because I didn't think it would be much different from just rinsing my toothbrush with water. But I was wrong- this thing is the real deal.
Easy to Use
The first thing I noticed about Bril is its easy use. All you have to do is snap the lid open, insert your toothbrush, and close the lid. The UV light will turn on automatically, and your brush will be sterilized in three minutes.
Fresher Breath
Since using Bril, I've noticed that my breath is fresher, and my teeth feel cleaner. I'm not sure if it's because my toothbrush is now bacteria-free or if it's the power of knowing that my brush is clean. Either way, I'm a fan.
Portable, Easy to Carry
The small size of Bril makes it easy to take with you when you travel. I love to pop it into my suitcase or toiletry bag and have peace of mind knowing my toothbrush is protected from hazardous germs wherever I am.
Fits Every Brush Size
I bought the Bril for my Sonicare toothbrush, which also fits my manual brush and my son's electric toothbrush without any issues. So Bril can accommodate all types of toothbrushes, whether you have a toothbrush with a small head or a large one.
Auto Shut-off Function
The auto-shut-off feature is fantastic because it means I don't have to worry about whether I turned the sanitizer off. It will turn itself off after three minutes, so I know my toothbrush is properly sterilized without setting a timer.
Lasting Charge
Another great feature of Bril is the long-lasting charge. I've only had to charge it once since I got it over a month ago. The manufacturer claims it to last 30 days on a single charge, but mine lasted 26 days, which is still pretty good.
Affordable
At around $30, the price seems reasonable for a product that helps maintain healthy mouths and healthier smiles, considering how well the product works and how long the charge lasts. I've seen similar products that cost twice as much and work less well.
Cons of Bril UV-C Sanitizer
Although Bril has impressed me greatly, I would like it to have some improvements. Such as
Takes Longer to Charge
My biggest con is that it takes a long time to charge- up to six hours. That's way too long for such a tiny device. I wish it charged faster, so I didn't have to plan ahead when I wanted to use it.
Gets Grimy Too Quickly
The sanitizer is made of plastic, and its exterior gets grimy quickly. It attracts dust and lint, perhaps due to the toilet's surroundings, and gets gummy when you touch it. So I have to clean it frequently to keep it looking nice.
Can't See the UV Light
The UV light is on the bottom of the device, so you can't see it when it's sterilizing your toothbrush. I like to watch the light kill the germs, so this is a bit of a letdown.
How Do You Clean Bril?
As I've mentioned, Bril gets dirty easily and needs frequent cleaning. For cleaning Bril, you can use a damp cloth or alcohol wipes. I prefer alcohol wipes because they're more effective at removing the gumminess. However, you must be careful not to get the electrical components wet.
Bril Reviews: What Do Customers Have To Say?
"I was really surprised at how well this works! I only had it a few weeks ago, but my teeth and gums feel much healthier."
-Amanda Waits, Florida
"I have been using Bril for about a month now, and I absolutely love it! Using it doesn't take extra time, and I know my toothbrush is clean."
-Mike Johnson, Colorado
"I admit I was very skeptical about this product, but I am now a believer! This is a must-have for anyone who wants to kick out bad breath and protect their oral health."
-Diane Palmer, California
"You must get this for your child's health. I have two young children who constantly worry me about their health. Since I've gotten Bril, I sleep better at night, assured that their toothbrushes are clean."
-Sarah K., Texas
"You must get this for your child's health. I have two young children who constantly worry me about their health issues. Since I've gotten Bril, I sleep better at night, assured that their toothbrushes are clean."
-John T., New York
How Much Does Bril Cost?
Bril comes in four different packages, each with its respective price tag.
A single pack of Bril costs $29.75
You can buy two and get one free at $19.83 each
Or, you can buy three and get two free at $17.85 each.
There's even a package of buy four get four at $14.87 each.
And to top it all off, you'll receive a 30-day money-back guarantee and free shipping nationwide on all these packages.
Where Can I Order Bril?
If you're interested in purchasing Bril, you can do so on the company's website or Amazon. I recommend Bril's website, as it offers free shipping on all orders. Besides, it's the only place you can get a 30-day refund. You can also find a few other retailers that sell Bril, but the price is usually higher.
Frequently Asked Questions
Below, I have compiled a list of frequently asked questions about Bril UV sanitizers.
Is This A TSA Approved Item (For Carry On)?
Yes, Bril UV sanitizers are TSA approved for carry-on. You can place the device in your carry-on bag as long as it is turned off. And because it's small, you won't have trouble fitting it in your bag. However, I recommend putting it in a clear, plastic bag to avoid any confusion at security.
Is UV Light Safe To Use?
Yes, UV light is safe to use. It's often used in hospitals to sterilize equipment. UV has no harmful side effects on your toothbrush or your oral health. However, you should avoid looking directly at the light, as it can damage your eyes.
How Long Does It Hold A Charge?
Although the manufacturer claims it can run for 30 days on a single charge, it lasts a bit over three weeks. My first month lasted 26 days, to be exact. And that is still impressive, considering most devices need to be charged daily.
What Is The Battery Life Of Bril?
I've been using this product for over a month, so I have yet to have to change the batteries. However, according to other users who have used it longer, lithium-ion batteries should last about a year and a half, with normal use.
Is Bril UV-C Sanitizer Device Compatible With My Toothbrush?
The Bril UV sanitizer is compatible with almost all toothbrush models, including manual and electric toothbrushes. However, I still recommend checking your toothbrush's dimensions to ensure it will fit in the sanitizer. Neither my four-year-old nor I had a problem with ours.
What Happens If You Don't Sanitize Your Toothbrush?
You're at risk of infection if you don't sanitize your toothbrush. Studies have shown that dental plaque and bacteria can survive on toothbrushes for weeks. And if you store your toothbrush in a shared space, you're also at risk of contracting a disease.
Who Is The Supplier Of This Product?
Uproar Ventures, a United States-based company, supplies Bril UV sanitizers. The company has a team of engineers, product designers, and service representatives that work on manufacturing and perfecting several technologically enhanced products.
Support Team
Uproar Ventures has a 24/7 support team available to answer any questions you may have. You can contact the team by email (service@getbril.com, contact@uproarventures.com), phone (888-746-8638), or live chat on the company's website.
I contacted the team a few times and received very quick responses. The support team was knowledgeable about the product and provided me with a wealth of information.
Final Thoughts On The Bril UV Sanitizer
And that's a wrap for my Bril review. Although not a trailblazing miracle, Bril hasn't failed a bit to impress me. It's small, light, and packs a punch with its UV sanitization technology.
Plus, it nails all the basics with an affordable price tag and efficient customer service. If you're looking for a lightweight and trustable UV sanitizer device, then I highly recommend Bril.
In particular, if you always remain worried about your child's teeth and overall health, then Bril UV sanitizer is undoubtedly your best bet. So go ahead and give it a try. You won't be disappointed.